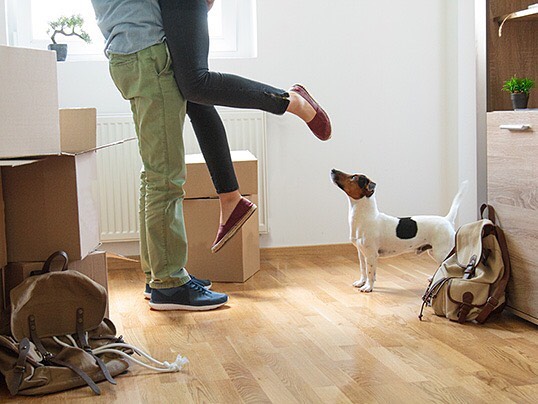 There's so much to consider when planning a move – there's the relocation as a whole, finding the right neighborhood, and looking for the ideal home for you and your family. When you have furry family members, you want to think about their stress levels as well as your own.
If your household includes cats or skittish dogs, they are definitely going to feel the tension that comes with a move. It's best to shelter them from as much of that as possible, and our movers here at Alpha Moving & Storage have seen it all. Take a few tips from us:
1. Packing Up Your Home
When a family starts the process of planning a move, there's the inevitable chaos of not only packing, but also purging the things they don't intend to relocate with. This process is understandably stressful not only for you, but your pets. Take it slow. Start as early as possible. Keep the noise level down the best you can. Keep one room intact with their things that you pack last. It's important for your pet's well being to make big changes slow.
2. Introducing the Kennel
If your animal pal isn't used to a crate or kennel, now is the time to get them accustomed to it. Keep it out, with an open door.  Make it cozy with a bed and some toys, so it's a safe and happy place. Be present and calm while they're in the kennel the first few times. Take them for short rides in the kennel. Always reward them with treats.
3. Getting Your Pet to Their New Home – The Big Day!!
This is when having that friendly vibe with the kennel comes in handy. Whether you are flying or driving, you will want your pet transported safely. If they are comfortable in the kennel, this will be a much more enjoyable experience for everyone involved. If you're driving, you may need to plan on the drive taking longer than anticipated if you'll need to stop for walks or water breaks. When flying, it's important not to medicate your pet before a flight. In fact, some airlines will refuse to transport pets that have been drugged. "Years ago, tranquilizers were the No. 1 cause of death in shipping pets, since the drugs depress the heart and respiratory system," said Sally B. Smith, who operates Airborne Animals, a pet transportation service based in New Jersey.
4. Getting Them Settled In
Unpack their bed, toys, water and food bowls first. Put these items in an area of your home that will be their space. Give them time to explore with you. Use an encouraging and upbeat tone while showing them around their new home. Take a nice slow walk around the yard or neighborhood to get them acclimated to their new surroundings.
5. Hire a Professional
The best way to ensure you are able to take care of your pet's needs during a stressful process like moving, is to have as much support as possible. Hire professionals to help box your items and load the truck. You can take your pet out and away from the ruckus, preventing it from escaping or being traumatized. Let Alpha Moving & Storage take care of all your moving and storage needs.
More Posts You May Find Interesting