Moving & Storage Specialists in New Jersey
WHY CHOOSE ALPHA MOVING FOR YOUR NEW JERSEY MOVING COMPANY?
Alpha Moving & Storage is an award-winning, fully licensed and insured local New Jersey moving and relocation company. We have served the New Jersey area for over 20 years. We are licensed to provide moving and storage services within New Jersey and New York and to anywhere in the country or around the globe.
Our experienced Jersey City movers and relocation team is proud of our proven success of attending to our client's every need, want, or concern. Whether you are moving a few boxes, an entire household, or a busy office, our professional New Jersey moving services will always be equally prompt, courteous, and reliable.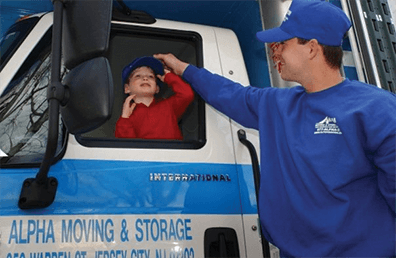 24/7 LOCAL NJ MOVING SERVICES
The New Jersey moving services we provide operate 24 hours a day, 7 days a week. We also specialize in last-minute relocations and moves. With such an experienced team, we can move your belongings up to the last minute.
No matter where you're moving, whether it's local or long distance, our professional movers are ready to help you! Need assistance with an eviction, or perhaps a commercial move? Alpha Moving & Storage is here. Let us help you make this move a seamless transition. We offer free New Jersey moving quotes, so get started today!
Local New Jersey Moving Company Reviews

Once again Alpha Movers did an amazing job!!!! I had a last minute move on Friday and as always Alpha came through. I called Thursday evening, spoke with Andrew and had a crew at my place Friday morning. Everything went exceptionally well. If you need a reputable, reasonably priced, professional mover look no further— call Alpha Moving & Storage!!

- Lisa R.

We used Alpha in April 2012 for our move. We moved 2000 sq ft of furniture to our new home. Honestly, these guys were the hardest working people I have ever met in my life. They were fast, and best yet, only thing that was damaged was a Halloween pumpkin.
I will def use them again. They were highly recommended by Coldwell Banker.

- Susan X.

Very good service, very professional, crew showed up right on time. Did a very good job, totally satisfied and I would highly recommend them again.

- Ravi P.

I recently relocated to a new town for work. I had never used movers before (just roped my friends in to help), but had very heavy pieces, a sofabed and solid wood bedroom set, and decided to save myself a possible back sprain and hire a moving company. I left a message with Alpha Relocation after seeing their ad on Craigslist, and Heather immediately returned my call. I booked my move with Henry, and was able to get a good deal because of the economy. They really try to make you happy and are very professional. My move was from upstate NY to north Jersey, the movers were fast but careful with my belongings. I was very nervous but they answered every question and were very thorough, and careful of my mom's new wood floors. They got to the apartment quickly and unpacked, and my move was right on target, I am VERY pleased with their customer service and would recommend them to anyone!

- Noelle B.

I NEVER take the time to write reviews, but I know how important a good referral is when it comes to finding a moving company in and around NYC.
We LOVED Alpha. From the assessor, who was quick, but experienced and not at all concerned by many of the large, heavy pieces – including a 400 lb vintage armoire that barely made it up our 4 flights the first time – to the foreman and his crew of three, they were fantastic.

Moving day for us started the night before when our apartment flooded and ruined the majority of our boxes. So when the moving van showed up on time – bright and early at 7:30am – we were not done packing and cars still had to be towed from the street by the city to park the van. No sweat. They were extremely patient with us while we frantically packed things up and worked quickly as they knew we only had until noon to complete both moves.

We did bring on a fourth mover to speed up the job and so glad we did, especially with the big pieces that we had to coerce down four flights of very old, narrow, angled hallways. And just like a previous reviewer, they wouldn't let me move anything, wrap anything, and were extremely professional.

They wrapped every last piece of furniture and I'd honestly rather have them use some extra tape than have them bang up the furniture or scratch up the walls of the building.

The guys were extremely grateful when I brought them some large bottles of water and were very polite in saying thank you – the least I could do as I stood around playing on my phone while they spent three hours moving my things out of our walkup.

They only had to move us up the street, but they finished the job early – which I've never experienced with movers EVER. I would recommend them to anyone looking for a reliable moving company.

- Christine W.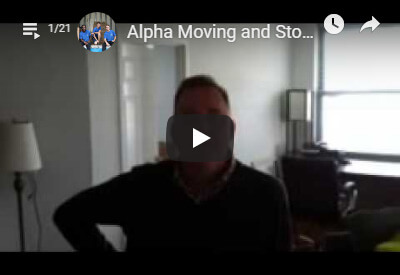 Contact us: (844) 584-6166