Moving New York & New Jersey
And the Greater Tri-State Area
Why Choose Us For Your New Jersey Movers?
24/7 Local NJ Moving Services
The moving services we provide in New Jersey operate 24 hours a day, 7 days a week. We also specialize in last-minute relocations and moves. With such an experienced team, we can move your belongings up to the last minute.
Fully Qualified & Insured
Alpha Moving & Storage is an award-winning, fully licensed and insured moving and relocation company in New Jersey. We have served the New Jersey area for over 20 years. We are licensed to provide moving and storage services within New Jersey and New York and to anywhere in the country or around the globe.
Experienced and Professional Movers
Our experienced movers and relocation team is proud of our proven success of attending to our client's every need, want, or concern. Whether you are moving a few boxes, an entire household, or a busy office, our professional moving services offered in New Jersey will always be equally prompt, courteous, and reliable.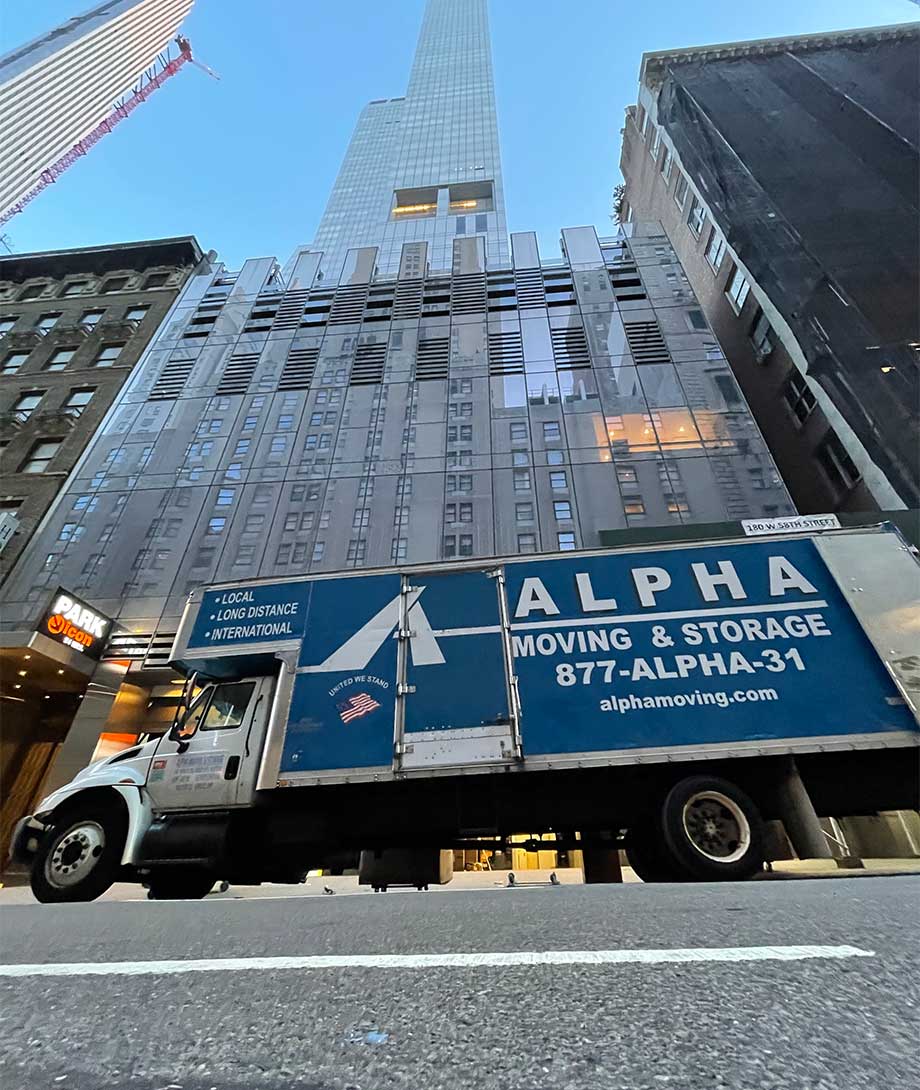 This moving company did a great job. Stairs in both places we moved to/from and they were efficient and careful when moving large furniture in all the stairwells. They also packed up all small furniture in padding & tape (sometimes bubble wrap) to protect it on the truck, even an old large mirror I was worried about getting scuffed or broken around the edges but no, everything was moved without a hitch.
Alison B
This company is top notch, they are totally professional and thorough. Every phase of the move was explained clearly and they made sure I understood. The movers were polite and very efficient. The cost was very close to the original estimate. Nothing was damaged and everything was placed in the correct room. I have never had such a pleasant moving experience and highly recommend this company.
Barbara S.
I am a realtor and I recommended Alpha Moving to two of my clients and they both had an amazing experience with them. They told me that the team at Alpha was great extremely professional and they did an outstanding job on their moving day. I am always happy to get positive feedbacks from my clients and I will keep sending my clients to the team at Alpha Moving!!
Maura C.
I moved from one apartment to another within Jersey City recently, and my experience with Alpha was excellent. They sent a team of 4 guys, and they had my whole move done in about 6 hours. It was extremely hot and they were still totally amazing. Nothing broke (nothing!) and I was so happy for their professionalism and help. Home run, Alpha, you guys are sensational.
A.M. M.
I want to just write up a little review for my experience with Alpha. Amazing crew that helped me move all my belongings from Bogota to Harrison. When all was said and done, they had this job completely super quick. The crew was professional, responsive, and easy to work with. They made the whole process seamless. I highly recommend them.
Christopher G.
Call Us Today
To Book Your New Jersey & New York City Moving & Storage