Moving & Storage Specialists in New Jersey
WHY CHOOSE ALPHA MOVING FOR YOUR NEW JERSEY MOVING COMPANY?
Alpha Moving & Storage is an award-winning, fully licensed and insured moving and relocation company in New Jersey. We have served the New Jersey area for over 20 years. We are licensed to provide moving and storage services within New Jersey and New York and to anywhere in the country or around the globe.
Our experienced movers and relocation team is proud of our proven success of attending to our client's every need, want, or concern. Whether you are moving a few boxes, an entire household, or a busy office, our professional moving services offered in New Jersey will always be equally prompt, courteous, and reliable.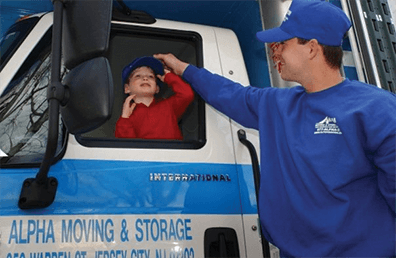 24/7 LOCAL NJ MOVING SERVICES
The moving services we provide in New Jersey operate 24 hours a day, 7 days a week. We also specialize in last-minute relocations and moves. With such an experienced team, we can move your belongings up to the last minute.
No matter where you're moving, whether it's local or long distance, our professional movers are ready to help you! Need assistance with an eviction, or perhaps a commercial move? Alpha Moving & Storage is here. Let us help you make this move a seamless transition. Our New Jersey moving company offers free quotes, so get started today!
Local New Jersey Moving Company Reviews

I must say that Alpha Moving is one of the best moving companies out there!! I have moved several times with different companies and I have never used a company more efficient, prompt, courteous and professional. The entire staff is committed to satisfying the needs of the customer and they truly stand by their word.

From my initial phone call to receive my estimate the staff was very helpful and determined to satisfy my needs. My sales rep, Andrew Holovko, was very persistent to sending an on-site estimator to my home (which was never offered to me from any other company) even though I explained to him that I have moved several times before and it wasn't necessary. He told me that not every mover charges the same and that his company preferred to send out an estimator so there would be no surprises on my moving day.

After agreeing to schedule the visit with one of his colleges I knew Alpha was the right company for me. The estimator, John Lyons, came to my home, brought me a brochure with recommendation letters and a certificate from the Better Business Bureau stating that they were an accredited company. Mr. Lyons was very knowledgeable, informative, professional and helpful throughout the entire visit. He explained how the movers would come to my home and disassembles all of my furniture, wrap up everything with quilted pads for protection while in transit, bring everything to my new location and set everything up for me. Since I wasn't moving far I had asked him if I had to pack my 46 inch flat screen TV and he told me it must be packed in a box. I was a little skeptical in regards to the packing because I have moved several times before and I have never needed to pack my TV in a box. However, I felt comfortable with Andrew and John up to this point so I figured packing the TV for $ 25 seemed reasonable considering I paid almost $1,000 for it and it's better to be safe than sorry.

On moving day, Alberto's crew was absolutely magnificent!!! They brought floor protection because I had new carpets laid and it snowed the night before. He walked with me through every room and went over all of the charges ahead of time while his crew began to disassemble my furniture. Being a single mother I usually tend to be a little weary when the movers come to my home because I don't like to feel obligated to pay for things that I shouldn't have to nor do I like to feel threatened. Let me tell you that these guys are absolutely the most courteous and respectful group of movers I have met thus far!!

I would definitely recommend Alpha Moving to anyone and everyone who needs a professional mover. The price was a little more expensive than other companies I have used in the past and more than the estimates I had currently received but it was money well spent and worth every penny!!!!!
Thanks for Everything!!!! (If I ever move again, which I probably will since I'm transferred every couple of years I will definitely call you guys again!)

Shannon A.

- Shannon A.

Could not have been happier.

Second time I have been pleased with their timing and efficiency aside from their courteous and very pleasant attitude. Everything was seamless – from the Office Staff setting up to the Movers transferring my boxes and furniture!!! Thanks Alpha!!!!

- Chef R.

I recently relocated to a new town for work. I had never used movers before (just roped my friends in to help), but had very heavy pieces, a sofabed and solid wood bedroom set, and decided to save myself a possible back sprain and hire a moving company. I left a message with Alpha Relocation after seeing their ad on Craigslist, and Heather immediately returned my call. I booked my move with Henry, and was able to get a good deal because of the economy. They really try to make you happy and are very professional. My move was from upstate NY to north Jersey, the movers were fast but careful with my belongings. I was very nervous but they answered every question and were very thorough, and careful of my mom's new wood floors. They got to the apartment quickly and unpacked, and my move was right on target, I am VERY pleased with their customer service and would recommend them to anyone!

- Noelle B.

I just used Alpha Moving for my move yesterday and I am overjoyed with the service I received!!!! The crew was outstanding. I checked the reviews on Yelp and I know a few people that have used them in the past and I have to say that they did a fantastic job! The crew arrived on time, they were professional and the price was reasonable!!

I would highly recommend using Alpha Moving!!

- Ashley G.

I used Alpha Moving for my move at the beginning of November 2011 based on a recommendation of a neighbor. They were great from beginning to end – scheduling the move and getting questions answered, the on-site estimate, and the crew who did the heavy lifting on moving day. The final cost came in under the estimate. The crew was friendly but efficient. Zero damage. I have absolutely nothing negative to say about the experience. Would use them again in a heartbeat and recommend them to friends and family.

- Marylou R.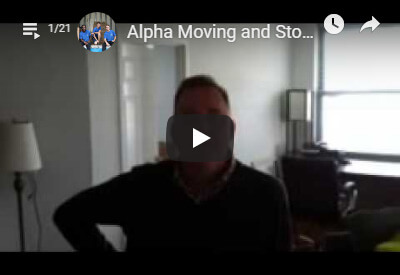 Contact us: (844) 584-6166