Moving & Storage Specialists in New Jersey
WHY CHOOSE ALPHA MOVING FOR YOUR NEW JERSEY MOVING COMPANY?
Alpha Moving & Storage is an award-winning, fully licensed and insured local New Jersey moving and relocation company. We have served the New Jersey area for over 20 years. We are licensed to provide moving and storage services within New Jersey and New York and to anywhere in the country or around the globe.
Our experienced Jersey City movers and relocation team is proud of our proven success of attending to our client's every need, want, or concern. Whether you are moving a few boxes, an entire household, or a busy office, our professional New Jersey moving services will always be equally prompt, courteous, and reliable.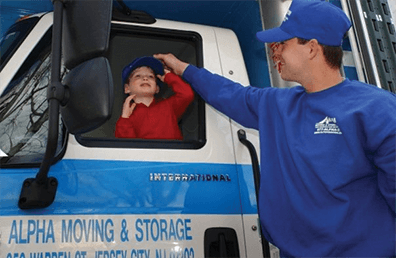 24/7 LOCAL NJ MOVING SERVICES
The New Jersey moving services we provide operate 24 hours a day, 7 days a week. We also specialize in last-minute relocations and moves. With such an experienced team, we can move your belongings up to the last minute.
No matter where you're moving, whether it's local or long distance, our professional movers are ready to help you! Need assistance with an eviction, or perhaps a commercial move? Alpha Moving & Storage is here. Let us help you make this move a seamless transition. We offer free New Jersey moving quotes, so get started today!
Local New Jersey Moving Company Reviews

I recently relocated to a new town for work. I had never used movers before (just roped my friends in to help), but had very heavy pieces, a sofabed and solid wood bedroom set, and decided to save myself a possible back sprain and hire a moving company. I left a message with Alpha Relocation after seeing their ad on Craigslist, and Heather immediately returned my call. I booked my move with Henry, and was able to get a good deal because of the economy. They really try to make you happy and are very professional. My move was from upstate NY to north Jersey, the movers were fast but careful with my belongings. I was very nervous but they answered every question and were very thorough, and careful of my mom's new wood floors. They got to the apartment quickly and unpacked, and my move was right on target, I am VERY pleased with their customer service and would recommend them to anyone!

- Noelle B.

We have used Alpha Movers for moves twice in the last 2.5 years and had great experience both the times. They sent someone to give an estimate and the estimate was accurate. The reservation process was smooth and the acceptance of credit card was an added plus.

The moves themselves were pretty good. Movers were courteous, efficient and very professional. Based on our experiences, I have recommended Alpha Movers to a few friends and all of them were happy with Alpha Movers. I would be happy to recommend them again.

- Kartikey M.

I am writing to express my gratitude to Alpha Movers. When receiving dozens of estimates and moving company phone calls I was a bit overwhelmed! Upon speaking to Andrew I knew immediately that Alpha was the company I needed and could trust. Integrity, Professionalism, and Accountability is your company motto and I must say……Wow, that is the truth! I am most definitely going to only recommend Alpha movers to friends and family. My new complex, The Alexan Riverdale, was recently built and I informed the main office that they should recommend Alpha Movers to future residents as well!

The three movers that I had were incredibly professional, courteous, respectful, and by far, extremely efficient employees! They battled mounds of snow from the recent blizzard, and still managed to get the job done in a timely fashion! They certainly made me feel confident that my belongings would not be harmed or damaged.

Moving was a stressful time for me, but once Alpha employees arrived, they "Lifted" that stress off my back and made my day much easier!

- Lisa R.

Could not have been happier.

Second time I have been pleased with their timing and efficiency aside from their courteous and very pleasant attitude. Everything was seamless – from the Office Staff setting up to the Movers transferring my boxes and furniture!!! Thanks Alpha!!!!

- Chef R.

I just used Alpha Moving for my move yesterday and I am overjoyed with the service I received!!!! The crew was outstanding. I checked the reviews on Yelp and I know a few people that have used them in the past and I have to say that they did a fantastic job! The crew arrived on time, they were professional and the price was reasonable!!

I would highly recommend using Alpha Moving!!

- Ashley G.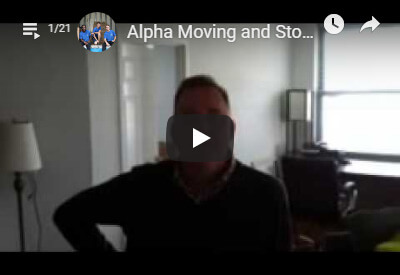 Contact us: (844) 584-6166