Moving & Storage Specialists in New Jersey
WHY CHOOSE ALPHA MOVING FOR YOUR NEW JERSEY MOVING COMPANY?
Alpha Moving & Storage is an award-winning, fully licensed and insured local New Jersey moving and relocation company. We have served the New Jersey area for over 20 years. We are licensed to provide moving and storage services within New Jersey and New York and to anywhere in the country or around the globe.
Our experienced Jersey City movers and relocation team is proud of our proven success of attending to our client's every need, want, or concern. Whether you are moving a few boxes, an entire household, or a busy office, our professional New Jersey moving services will always be equally prompt, courteous, and reliable.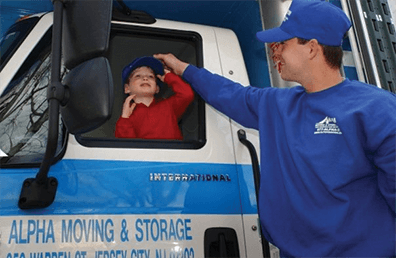 24/7 LOCAL NJ MOVING SERVICES
The New Jersey moving services we provide operate 24 hours a day, 7 days a week. We also specialize in last-minute relocations and moves. With such an experienced team, we can move your belongings up to the last minute.
No matter where you're moving, whether it's local or long distance, our professional movers are ready to help you! Need assistance with an eviction, or perhaps a commercial move? Alpha Moving & Storage is here. Let us help you make this move a seamless transition. We offer free New Jersey moving quotes, so get started today!
Local New Jersey Moving Company Reviews

I recently relocated to a new town for work. I had never used movers before (just roped my friends in to help), but had very heavy pieces, a sofabed and solid wood bedroom set, and decided to save myself a possible back sprain and hire a moving company. I left a message with Alpha Relocation after seeing their ad on Craigslist, and Heather immediately returned my call. I booked my move with Henry, and was able to get a good deal because of the economy. They really try to make you happy and are very professional. My move was from upstate NY to north Jersey, the movers were fast but careful with my belongings. I was very nervous but they answered every question and were very thorough, and careful of my mom's new wood floors. They got to the apartment quickly and unpacked, and my move was right on target, I am VERY pleased with their customer service and would recommend them to anyone!

- Noelle B.

We use Alpha-moving Company and we were pleased with the delivery, assembling of our furniture. We had a quote of $456 for 4 men and they were complete within the four hours. However due to our lack of preparation, we had to pay more for our move. We actually referred Alpha Moving and they were very pleased with the service they receive. These was our first time moving and pray we would not have to move anytime soon, if we do, we will call upon Alpha Moving.

Moving is a stressful job; it is always helpful when you work with professional people!

Thank you
Alpha
The Trents

- Sharnell t.

Alpha handled my move from Brooklyn to NJ and did a wonderful job. They arrived on time (actually, a few minutes early) in Brooklyn and efficiently loaded the truck. They arrived in NJ when expected and quickly moved in all furniture. They were very careful and reassembled everything very well. I highly recommend them to anyone looking for efficient, competent and courteous movers.

- Barbara G.

Very good service, very professional, crew showed up right on time. Did a very good job, totally satisfied and I would highly recommend them again.

- Ravi P.

Hello,
Alpha crew: I wanted to thank you for the wonderful service you have provided throughout my many moves! The consistent efficiency and professionalism of your team has made every move go smoothly. Thank you once again for your services and I highly recommend your company.

On a side note- I am pretty shocked to read some of the comments below… I had sched. about 5 moves within a month with Alpha, and had ZERO issues. They did the move for my 8000 sq ft home in Weehawken to Arizona…. I had additional furniture that had to be delivered from my Weehawken home to houses in Freehold, North Bergen and few other places… its a blur at this point… but each move was always on sched-organized-professional- As I stated before, if I have any more moves, god willing that was the last- BUT if I ever do, I will use them again and continue to recommend. Heather was SO accommodating with times, dates etc…she was patient with my crazy sched. and actually made my move… quite easy! Thank you again Alpha!

Kristy B

- Kristy B.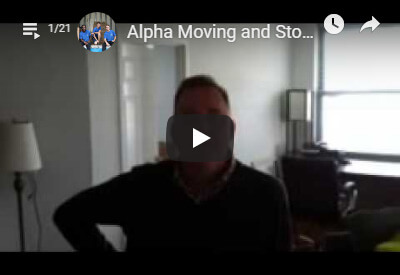 Contact us: (844) 584-6166