Moving & Storage Specialists in New Jersey
WHY CHOOSE ALPHA MOVING FOR YOUR NEW JERSEY MOVING COMPANY?
Alpha Moving & Storage is an award-winning, fully licensed and insured moving and relocation company in New Jersey. We have served the New Jersey area for over 20 years. We are licensed to provide moving and storage services within New Jersey and New York and to anywhere in the country or around the globe.
Our experienced movers and relocation team is proud of our proven success of attending to our client's every need, want, or concern. Whether you are moving a few boxes, an entire household, or a busy office, our professional moving services offered in New Jersey will always be equally prompt, courteous, and reliable.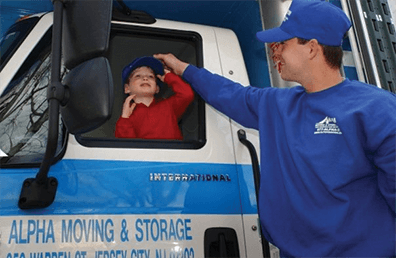 24/7 LOCAL NJ MOVING SERVICES
The moving services we provide in New Jersey operate 24 hours a day, 7 days a week. We also specialize in last-minute relocations and moves. With such an experienced team, we can move your belongings up to the last minute.
No matter where you're moving, whether it's local or long distance, our professional movers are ready to help you! Need assistance with an eviction, or perhaps a commercial move? Alpha Moving & Storage is here. Let us help you make this move a seamless transition. Our New Jersey moving company offers free quotes, so get started today!
Local New Jersey Moving Company Reviews

We have used Alpha Movers for moves twice in the last 2.5 years and had great experience both the times. They sent someone to give an estimate and the estimate was accurate. The reservation process was smooth and the acceptance of credit card was an added plus.

The moves themselves were pretty good. Movers were courteous, efficient and very professional. Based on our experiences, I have recommended Alpha Movers to a few friends and all of them were happy with Alpha Movers. I would be happy to recommend them again.

- Kartikey M.

Again Alpha out did themselves. Chubby and his crew were professional and on time even early!!!. This is the 5th move with them 2 offices, 2 homes and a music studio. I highly recommend them for the customer service. Booking the job was great with Heather, John the estimator was prompt. I even got a phone call when the job was done from one of the owners…. how often does that ever happen??? Um never these days.

Again the move from Morristown to Westwood went smoothly, we did change a few things the day of the move by my choice so it took about another hour or so but that was not due to anything they did.

Thanks Alpha for a great job.
John Ferrari

- John F.

This was the best moving experience I have ever had! This was a move from one state to another, and things could not have gone more smoothly. The movers showed up exactly when I was told they would be there. They wrapped everything very carefully, but were extremely efficient in how quickly they loaded the truck.
The truck arrived at our destination even earlier than I expected. Once again the men moved things very quickly, but also very carefully. They assembled all furniture that needed it, and cleaned up beautifully when they were finished.
The rate was quite reasonable, and everyone was completely professional. I will recommend Alpha to everyone I know who has to hire movers.

- Wendy G.

Alpha handled my move from Brooklyn to NJ and did a wonderful job. They arrived on time (actually, a few minutes early) in Brooklyn and efficiently loaded the truck. They arrived in NJ when expected and quickly moved in all furniture. They were very careful and reassembled everything very well. I highly recommend them to anyone looking for efficient, competent and courteous movers.

- Barbara G.

I NEVER take the time to write reviews, but I know how important a good referral is when it comes to finding a moving company in and around NYC.
We LOVED Alpha. From the assessor, who was quick, but experienced and not at all concerned by many of the large, heavy pieces – including a 400 lb vintage armoire that barely made it up our 4 flights the first time – to the foreman and his crew of three, they were fantastic.

Moving day for us started the night before when our apartment flooded and ruined the majority of our boxes. So when the moving van showed up on time – bright and early at 7:30am – we were not done packing and cars still had to be towed from the street by the city to park the van. No sweat. They were extremely patient with us while we frantically packed things up and worked quickly as they knew we only had until noon to complete both moves.

We did bring on a fourth mover to speed up the job and so glad we did, especially with the big pieces that we had to coerce down four flights of very old, narrow, angled hallways. And just like a previous reviewer, they wouldn't let me move anything, wrap anything, and were extremely professional.

They wrapped every last piece of furniture and I'd honestly rather have them use some extra tape than have them bang up the furniture or scratch up the walls of the building.

The guys were extremely grateful when I brought them some large bottles of water and were very polite in saying thank you – the least I could do as I stood around playing on my phone while they spent three hours moving my things out of our walkup.

They only had to move us up the street, but they finished the job early – which I've never experienced with movers EVER. I would recommend them to anyone looking for a reliable moving company.

- Christine W.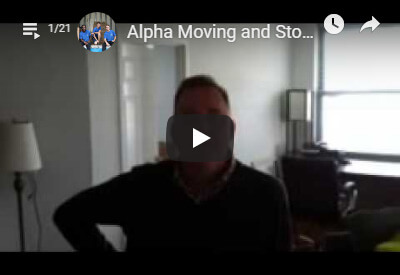 Contact us: (844) 584-6166