Moving & Storage Specialists in New Jersey
WHY CHOOSE ALPHA MOVING FOR YOUR NEW JERSEY MOVING COMPANY?
Alpha Moving & Storage is an award-winning, fully licensed and insured local New Jersey moving and relocation company. We have served the New Jersey area for over 20 years. We are licensed to provide moving and storage services within New Jersey and New York and to anywhere in the country or around the globe.
Our experienced Jersey City movers and relocation team is proud of our proven success of attending to our client's every need, want, or concern. Whether you are moving a few boxes, an entire household, or a busy office, our professional New Jersey moving services will always be equally prompt, courteous, and reliable.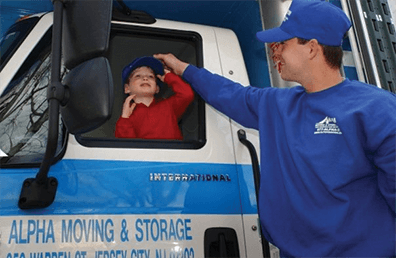 24/7 LOCAL NJ MOVING SERVICES
The New Jersey moving services we provide operate 24 hours a day, 7 days a week. We also specialize in last-minute relocations and moves. With such an experienced team, we can move your belongings up to the last minute.
No matter where you're moving, whether it's local or long distance, our professional movers are ready to help you! Need assistance with an eviction, or perhaps a commercial move? Alpha Moving & Storage is here. Let us help you make this move a seamless transition. We offer free New Jersey moving quotes, so get started today!
Local New Jersey Moving Company Reviews

This was the best moving experience I have ever had! This was a move from one state to another, and things could not have gone more smoothly. The movers showed up exactly when I was told they would be there. They wrapped everything very carefully, but were extremely efficient in how quickly they loaded the truck.
The truck arrived at our destination even earlier than I expected. Once again the men moved things very quickly, but also very carefully. They assembled all furniture that needed it, and cleaned up beautifully when they were finished.
The rate was quite reasonable, and everyone was completely professional. I will recommend Alpha to everyone I know who has to hire movers.

- Wendy G.

I am always cautious about moving companies, there are just so many bad ones out there. However, Alpha Moving was not one of those companies. They were recommended to me by the leasing agent of the building my husband and I were moving to so we decided to see how much their quote would be. We called them and about 10 other moving companies and they were the lowest.

Having gone with the "cheapest" quote last year, I was very skeptical as that experience was awful. I also thought that they might quote us one thing and then charge us something else. Again, this didn't happen.

The movers (3 men) showed up 10 minutes early(!) and took maybe an hour and a half to get everything out of our apartment. They carefully wrapped our couch, bed, desk, TV, etc. and brought them to the moving van with car. When we met them at the new apartment, they unloaded with ease, put our bed together, and made sure everything was in order.

They were polite and very responsible. The final total was actually less then what was quoted! It was a great moving experience and if I have to do it again, I am calling Alpha.

- Marissa G.

We use Alpha-moving Company and we were pleased with the delivery, assembling of our furniture. We had a quote of $456 for 4 men and they were complete within the four hours. However due to our lack of preparation, we had to pay more for our move. We actually referred Alpha Moving and they were very pleased with the service they receive. These was our first time moving and pray we would not have to move anytime soon, if we do, we will call upon Alpha Moving.

Moving is a stressful job; it is always helpful when you work with professional people!

Thank you
Alpha
The Trents

- Sharnell t.

Very good service, very professional, crew showed up right on time. Did a very good job, totally satisfied and I would highly recommend them again.

- Ravi P.

This is the 2nd time that I've used Alpha for moving purposes in the JC/Hoboken area, and both were great experiences.

In an area with narrow streets, very little parking, and narrow/small hallways & apartments — these guys were pro's, going non-stop for 5 hours.

I only booked a week ahead of time, and they gave me a great team of guys and an accurate estimate.

I'd highly recommend Alpha — they've shown up on time and ready to go…. something that other moving companies might not necessarily do.

- M R.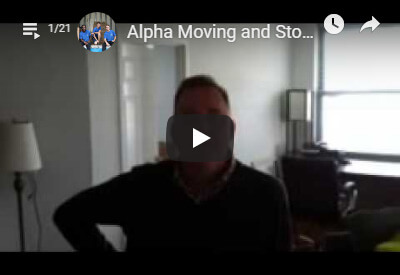 Contact us: (844) 584-6166