Moving & Storage Specialists in New Jersey
WHY CHOOSE ALPHA MOVING FOR YOUR NEW JERSEY MOVING COMPANY?
Alpha Moving & Storage is an award-winning, fully licensed and insured local New Jersey moving and relocation company. We have served the New Jersey area for over 20 years. We are licensed to provide moving and storage services within New Jersey and New York and to anywhere in the country or around the globe.
Our experienced Jersey City movers and relocation team is proud of our proven success of attending to our client's every need, want, or concern. Whether you are moving a few boxes, an entire household, or a busy office, our professional New Jersey moving services will always be equally prompt, courteous, and reliable.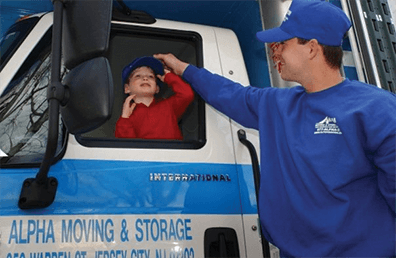 24/7 LOCAL NJ MOVING SERVICES
The New Jersey moving services we provide operate 24 hours a day, 7 days a week. We also specialize in last-minute relocations and moves. With such an experienced team, we can move your belongings up to the last minute.
No matter where you're moving, whether it's local or long distance, our professional movers are ready to help you! Need assistance with an eviction, or perhaps a commercial move? Alpha Moving & Storage is here. Let us help you make this move a seamless transition. We offer free New Jersey moving quotes, so get started today!
Local New Jersey Moving Company Reviews

I must say that Alpha Moving is one of the best moving companies out there!! I have moved several times with different companies and I have never used a company more efficient, prompt, courteous and professional. The entire staff is committed to satisfying the needs of the customer and they truly stand by their word.

From my initial phone call to receive my estimate the staff was very helpful and determined to satisfy my needs. My sales rep, Andrew Holovko, was very persistent to sending an on-site estimator to my home (which was never offered to me from any other company) even though I explained to him that I have moved several times before and it wasn't necessary. He told me that not every mover charges the same and that his company preferred to send out an estimator so there would be no surprises on my moving day.

After agreeing to schedule the visit with one of his colleges I knew Alpha was the right company for me. The estimator, John Lyons, came to my home, brought me a brochure with recommendation letters and a certificate from the Better Business Bureau stating that they were an accredited company. Mr. Lyons was very knowledgeable, informative, professional and helpful throughout the entire visit. He explained how the movers would come to my home and disassembles all of my furniture, wrap up everything with quilted pads for protection while in transit, bring everything to my new location and set everything up for me. Since I wasn't moving far I had asked him if I had to pack my 46 inch flat screen TV and he told me it must be packed in a box. I was a little skeptical in regards to the packing because I have moved several times before and I have never needed to pack my TV in a box. However, I felt comfortable with Andrew and John up to this point so I figured packing the TV for $ 25 seemed reasonable considering I paid almost $1,000 for it and it's better to be safe than sorry.

On moving day, Alberto's crew was absolutely magnificent!!! They brought floor protection because I had new carpets laid and it snowed the night before. He walked with me through every room and went over all of the charges ahead of time while his crew began to disassemble my furniture. Being a single mother I usually tend to be a little weary when the movers come to my home because I don't like to feel obligated to pay for things that I shouldn't have to nor do I like to feel threatened. Let me tell you that these guys are absolutely the most courteous and respectful group of movers I have met thus far!!

I would definitely recommend Alpha Moving to anyone and everyone who needs a professional mover. The price was a little more expensive than other companies I have used in the past and more than the estimates I had currently received but it was money well spent and worth every penny!!!!!
Thanks for Everything!!!! (If I ever move again, which I probably will since I'm transferred every couple of years I will definitely call you guys again!)

Shannon A.

- Shannon A.

Alpha Moving & Storage were hands down the best two moving experiences I ever had. The movers really put a lot of care into moving the furniture from my condo to storage and back to my new apt. The office is also run in a very professional manner. I'd recommend them to anyone of my friends or family. Have fun with your Alpha move!! I did!

Craig S.

- Craig S.

Willy and his guys did a great job moving me.
I was displaced due to flooding after Hurricane Irene. I was able to schedule a time with Alpha only days later and they got me into the truck and into my new apartment in just 3 hours.
Alpha was able to make what could have been a horrible experience very easy and at a great price.

Thanks Alpha!

- Bart D.

I am writing to express my gratitude to Alpha Movers. When receiving dozens of estimates and moving company phone calls I was a bit overwhelmed! Upon speaking to Andrew I knew immediately that Alpha was the company I needed and could trust. Integrity, Professionalism, and Accountability is your company motto and I must say……Wow, that is the truth! I am most definitely going to only recommend Alpha movers to friends and family. My new complex, The Alexan Riverdale, was recently built and I informed the main office that they should recommend Alpha Movers to future residents as well!

The three movers that I had were incredibly professional, courteous, respectful, and by far, extremely efficient employees! They battled mounds of snow from the recent blizzard, and still managed to get the job done in a timely fashion! They certainly made me feel confident that my belongings would not be harmed or damaged.

Moving was a stressful time for me, but once Alpha employees arrived, they "Lifted" that stress off my back and made my day much easier!

- Lisa R.

Again Alpha out did themselves. Chubby and his crew were professional and on time even early!!!. This is the 5th move with them 2 offices, 2 homes and a music studio. I highly recommend them for the customer service. Booking the job was great with Heather, John the estimator was prompt. I even got a phone call when the job was done from one of the owners…. how often does that ever happen??? Um never these days.

Again the move from Morristown to Westwood went smoothly, we did change a few things the day of the move by my choice so it took about another hour or so but that was not due to anything they did.

Thanks Alpha for a great job.
John Ferrari

- John F.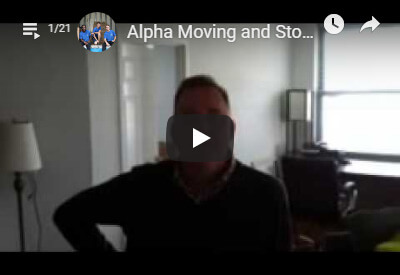 Contact us: (844) 584-6166