Moving & Storage Specialists in New Jersey
WHY CHOOSE ALPHA MOVING FOR YOUR NEW JERSEY MOVING COMPANY?
Alpha Moving & Storage is an award-winning, fully licensed and insured local New Jersey moving and relocation company. We have served the New Jersey area for over 20 years. We are licensed to provide moving and storage services within New Jersey and New York and to anywhere in the country or around the globe.
Our experienced Jersey City movers and relocation team is proud of our proven success of attending to our client's every need, want, or concern. Whether you are moving a few boxes, an entire household, or a busy office, our professional New Jersey moving services will always be equally prompt, courteous, and reliable.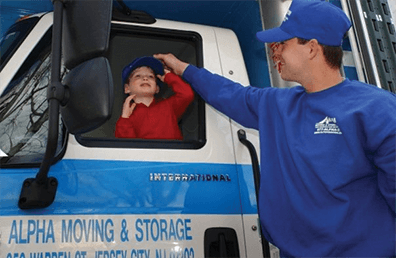 24/7 LOCAL NJ MOVING SERVICES
The New Jersey moving services we provide operate 24 hours a day, 7 days a week. We also specialize in last-minute relocations and moves. With such an experienced team, we can move your belongings up to the last minute.
No matter where you're moving, whether it's local or long distance, our professional movers are ready to help you! Need assistance with an eviction, or perhaps a commercial move? Alpha Moving & Storage is here. Let us help you make this move a seamless transition. We offer free New Jersey moving quotes, so get started today!
Local New Jersey Moving Company Reviews

Used them for a 1 BR move within Jersey City and was very happy with their services. Very courteous and professional over the phone, movers were on time, worked quickly and finished within the time frame quoted. Would definitely use them again!

- Viola V.

The crew is always good. In my experience, the best thing to do is say hi and get out of the way, because they move fast. A friend of mine used to work for a moving company and he said Alpha is probably twice as fast.

(in no way do I profit from these statements)

- Joe O.

We used Alpha in April 2012 for our move. We moved 2000 sq ft of furniture to our new home. Honestly, these guys were the hardest working people I have ever met in my life. They were fast, and best yet, only thing that was damaged was a Halloween pumpkin.
I will def use them again. They were highly recommended by Coldwell Banker.

- Susan X.

I have had a fantastic experience for two moves with Alpha (both within Brooklyn – 2010 and 2012- both up and down stairs!). They were quick, professional, and careful – even though I was a still half-packing thing in the end of my second move, they were super nice and helpful. It was actually the same team that moved me both times, and they remembered me! I would go with them for any future move as well, and I highly recommend them!

- Shelly W.

Hello,
Alpha crew: I wanted to thank you for the wonderful service you have provided throughout my many moves! The consistent efficiency and professionalism of your team has made every move go smoothly. Thank you once again for your services and I highly recommend your company.

On a side note- I am pretty shocked to read some of the comments below… I had sched. about 5 moves within a month with Alpha, and had ZERO issues. They did the move for my 8000 sq ft home in Weehawken to Arizona…. I had additional furniture that had to be delivered from my Weehawken home to houses in Freehold, North Bergen and few other places… its a blur at this point… but each move was always on sched-organized-professional- As I stated before, if I have any more moves, god willing that was the last- BUT if I ever do, I will use them again and continue to recommend. Heather was SO accommodating with times, dates etc…she was patient with my crazy sched. and actually made my move… quite easy! Thank you again Alpha!

Kristy B

- Kristy B.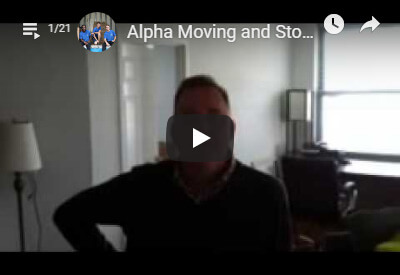 Contact us: (844) 584-6166