Moving & Storage Specialists in New Jersey
WHY CHOOSE ALPHA MOVING FOR YOUR NEW JERSEY MOVING COMPANY?
Alpha Moving & Storage is an award-winning, fully licensed and insured local New Jersey moving and relocation company. We have served the New Jersey area for over 20 years. We are licensed to provide moving and storage services within New Jersey and New York and to anywhere in the country or around the globe.
Our experienced Jersey City movers and relocation team is proud of our proven success of attending to our client's every need, want, or concern. Whether you are moving a few boxes, an entire household, or a busy office, our professional New Jersey moving services will always be equally prompt, courteous, and reliable.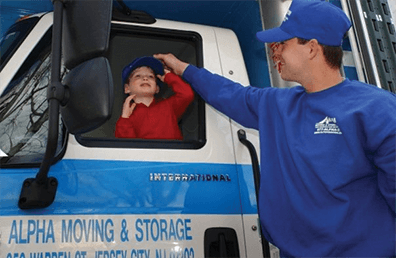 24/7 LOCAL NJ MOVING SERVICES
The New Jersey moving services we provide operate 24 hours a day, 7 days a week. We also specialize in last-minute relocations and moves. With such an experienced team, we can move your belongings up to the last minute.
No matter where you're moving, whether it's local or long distance, our professional movers are ready to help you! Need assistance with an eviction, or perhaps a commercial move? Alpha Moving & Storage is here. Let us help you make this move a seamless transition. We offer free New Jersey moving quotes, so get started today!
Local New Jersey Moving Company Reviews

I was a bit skeptical after reading some of the reviews but decided to give them a chance anyway. I'm glad I did!! The service from everyone, including the crew to Avi the general manager was impeccable. The crew arrived right on time and started working within 5-10 minutes as soon as the paperwork was finished. We ran into a bit of a snag during the unloading, but the crew made sure to adjust to my specific needs even before the general manager was involved.

We have a 2 bedroom apartment and moved into 3 level home. It took the crew less than 5 hours (estimated time was 5.5 hours) to load and unload. Nothing was broken at all. They took a lot of care to wrap ALL the furniture in blankets.

I would definitely recommend Alpha Moving and use again!!

- Amar B.

Again Alpha out did themselves. Chubby and his crew were professional and on time even early!!!. This is the 5th move with them 2 offices, 2 homes and a music studio. I highly recommend them for the customer service. Booking the job was great with Heather, John the estimator was prompt. I even got a phone call when the job was done from one of the owners…. how often does that ever happen??? Um never these days.

Again the move from Morristown to Westwood went smoothly, we did change a few things the day of the move by my choice so it took about another hour or so but that was not due to anything they did.

Thanks Alpha for a great job.
John Ferrari

- John F.

Hello,
Alpha crew: I wanted to thank you for the wonderful service you have provided throughout my many moves! The consistent efficiency and professionalism of your team has made every move go smoothly. Thank you once again for your services and I highly recommend your company.

On a side note- I am pretty shocked to read some of the comments below… I had sched. about 5 moves within a month with Alpha, and had ZERO issues. They did the move for my 8000 sq ft home in Weehawken to Arizona…. I had additional furniture that had to be delivered from my Weehawken home to houses in Freehold, North Bergen and few other places… its a blur at this point… but each move was always on sched-organized-professional- As I stated before, if I have any more moves, god willing that was the last- BUT if I ever do, I will use them again and continue to recommend. Heather was SO accommodating with times, dates etc…she was patient with my crazy sched. and actually made my move… quite easy! Thank you again Alpha!

Kristy B

- Kristy B.

Alpha Moving & Storage were hands down the best two moving experiences I ever had. The movers really put a lot of care into moving the furniture from my condo to storage and back to my new apt. The office is also run in a very professional manner. I'd recommend them to anyone of my friends or family. Have fun with your Alpha move!! I did!

Craig S.

- Craig S.

We use Alpha-moving Company and we were pleased with the delivery, assembling of our furniture. We had a quote of $456 for 4 men and they were complete within the four hours. However due to our lack of preparation, we had to pay more for our move. We actually referred Alpha Moving and they were very pleased with the service they receive. These was our first time moving and pray we would not have to move anytime soon, if we do, we will call upon Alpha Moving.

Moving is a stressful job; it is always helpful when you work with professional people!

Thank you
Alpha
The Trents

- Sharnell t.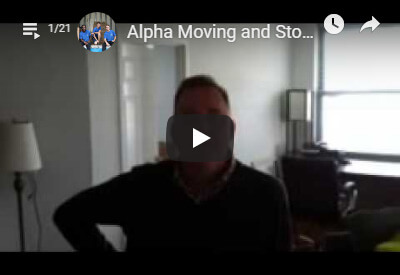 Contact us: (844) 584-6166