Moving & Storage Specialists in New Jersey
WHY CHOOSE ALPHA MOVING FOR YOUR NEW JERSEY MOVING COMPANY?
Alpha Moving & Storage is an award-winning, fully licensed and insured local New Jersey moving and relocation company. We have served the New Jersey area for over 20 years. We are licensed to provide moving and storage services within New Jersey and New York and to anywhere in the country or around the globe.
Our experienced Jersey City movers and relocation team is proud of our proven success of attending to our client's every need, want, or concern. Whether you are moving a few boxes, an entire household, or a busy office, our professional New Jersey moving services will always be equally prompt, courteous, and reliable.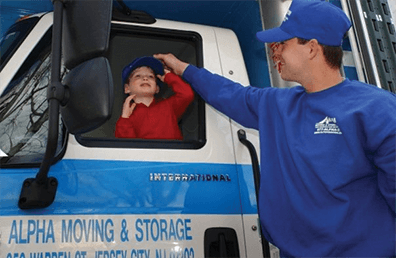 24/7 LOCAL NJ MOVING SERVICES
The New Jersey moving services we provide operate 24 hours a day, 7 days a week. We also specialize in last-minute relocations and moves. With such an experienced team, we can move your belongings up to the last minute.
No matter where you're moving, whether it's local or long distance, our professional movers are ready to help you! Need assistance with an eviction, or perhaps a commercial move? Alpha Moving & Storage is here. Let us help you make this move a seamless transition. We offer free New Jersey moving quotes, so get started today!
Local New Jersey Moving Company Reviews

I recently used Alpha Moving & Storage for a long distance move from upstate NY to Hoboken. The service was great! I have heavy antique furniture and they were extremely careful – not a single piece of furniture was damaged or even scratched. The movers were quick, professional, extremely helpful, friendly and most of all great with my 3-year-old nephew whom I needed to babysit at the last minute.

In addition the quote provided to me over the phone was accurate, there were no hidden charges, and I even received money back because they were quick and efficient and moved me in faster than they had anticipated.

I would use them again in a heartbeat and have already recommended them to others.

- Jennifer C.

Alpha handled my move from Brooklyn to NJ and did a wonderful job. They arrived on time (actually, a few minutes early) in Brooklyn and efficiently loaded the truck. They arrived in NJ when expected and quickly moved in all furniture. They were very careful and reassembled everything very well. I highly recommend them to anyone looking for efficient, competent and courteous movers.

- Barbara G.

We used Alpha in April 2012 for our move. We moved 2000 sq ft of furniture to our new home. Honestly, these guys were the hardest working people I have ever met in my life. They were fast, and best yet, only thing that was damaged was a Halloween pumpkin.
I will def use them again. They were highly recommended by Coldwell Banker.

- Susan X.

I am writing to express my gratitude to Alpha Movers. When receiving dozens of estimates and moving company phone calls I was a bit overwhelmed! Upon speaking to Andrew I knew immediately that Alpha was the company I needed and could trust. Integrity, Professionalism, and Accountability is your company motto and I must say……Wow, that is the truth! I am most definitely going to only recommend Alpha movers to friends and family. My new complex, The Alexan Riverdale, was recently built and I informed the main office that they should recommend Alpha Movers to future residents as well!

The three movers that I had were incredibly professional, courteous, respectful, and by far, extremely efficient employees! They battled mounds of snow from the recent blizzard, and still managed to get the job done in a timely fashion! They certainly made me feel confident that my belongings would not be harmed or damaged.

Moving was a stressful time for me, but once Alpha employees arrived, they "Lifted" that stress off my back and made my day much easier!

- Lisa R.

Once again Alpha Movers did an amazing job!!!! I had a last minute move on Friday and as always Alpha came through. I called Thursday evening, spoke with Andrew and had a crew at my place Friday morning. Everything went exceptionally well. If you need a reputable, reasonably priced, professional mover look no further— call Alpha Moving & Storage!!

- Lisa R.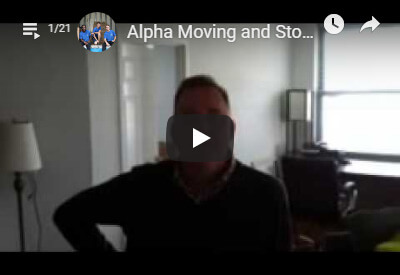 Contact us: (844) 584-6166