Moving & Storage Specialists in New Jersey
WHY CHOOSE ALPHA MOVING FOR YOUR NEW JERSEY MOVING COMPANY?
Alpha Moving & Storage is an award-winning, fully licensed and insured local New Jersey moving and relocation company. We have served the New Jersey area for over 20 years. We are licensed to provide moving and storage services within New Jersey and New York and to anywhere in the country or around the globe.
Our experienced Jersey City movers and relocation team is proud of our proven success of attending to our client's every need, want, or concern. Whether you are moving a few boxes, an entire household, or a busy office, our professional New Jersey moving services will always be equally prompt, courteous, and reliable.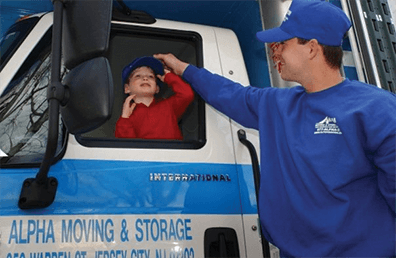 24/7 LOCAL NJ MOVING SERVICES
The New Jersey moving services we provide operate 24 hours a day, 7 days a week. We also specialize in last-minute relocations and moves. With such an experienced team, we can move your belongings up to the last minute.
No matter where you're moving, whether it's local or long distance, our professional movers are ready to help you! Need assistance with an eviction, or perhaps a commercial move? Alpha Moving & Storage is here. Let us help you make this move a seamless transition. We offer free New Jersey moving quotes, so get started today!
Local New Jersey Moving Company Reviews

Alpha is a great company. I have now used them three times and was happy each and every time. They are always prompt and prepared. The actual amount is usually higher than the estimate but you can help to prevent this by participating in the move and making sure everything is taped up ready to go in the truck prior to them arriving. I would absolutely use them again.

- John K.

I had to move again, and just went straight to Alpha. From my experience they are always on time for the move. Very friendly. They are extremely thorough and fast. My move always seems to be done faster then expected. I always get uneasy with moves but from the two experiences I have had I'm left very relieved. The cost is always fair.

- Chris G.

Once again Alpha Movers did an amazing job!!!! I had a last minute move on Friday and as always Alpha came through. I called Thursday evening, spoke with Andrew and had a crew at my place Friday morning. Everything went exceptionally well. If you need a reputable, reasonably priced, professional mover look no further— call Alpha Moving & Storage!!

- Lisa R.

Again Alpha out did themselves. Chubby and his crew were professional and on time even early!!!. This is the 5th move with them 2 offices, 2 homes and a music studio. I highly recommend them for the customer service. Booking the job was great with Heather, John the estimator was prompt. I even got a phone call when the job was done from one of the owners…. how often does that ever happen??? Um never these days.

Again the move from Morristown to Westwood went smoothly, we did change a few things the day of the move by my choice so it took about another hour or so but that was not due to anything they did.

Thanks Alpha for a great job.
John Ferrari

- John F.

I used Alpha last week for a move in North Jersey. The move went great. I have nothing bad to say. In fact, this was by a mile, the best move I ever had. They were timely, nice and professional throughout the process.

AND – they gave me a FREE VACATION PACKAGE just for using their service (amazing concept – made me go with them in the first place) — So I am going to VEGAS BABY…. For FREE… Great Move at a moderate cost plus free vacation – can't beat that!

- Thomas T.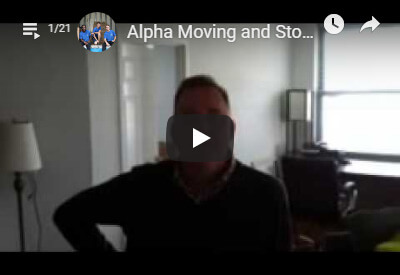 Contact us: (844) 584-6166