Moving & Storage Specialists in New Jersey
WHY CHOOSE ALPHA MOVING FOR YOUR NEW JERSEY MOVING COMPANY?
Alpha Moving & Storage is an award-winning, fully licensed and insured local New Jersey moving and relocation company. We have served the New Jersey area for over 20 years. We are licensed to provide moving and storage services within New Jersey and New York and to anywhere in the country or around the globe.
Our experienced Jersey City movers and relocation team is proud of our proven success of attending to our client's every need, want, or concern. Whether you are moving a few boxes, an entire household, or a busy office, our professional New Jersey moving services will always be equally prompt, courteous, and reliable.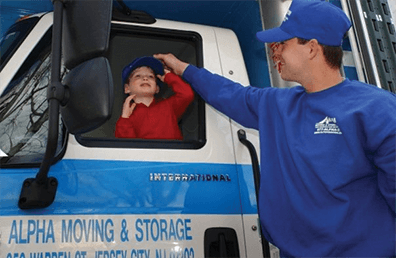 24/7 LOCAL NJ MOVING SERVICES
The New Jersey moving services we provide operate 24 hours a day, 7 days a week. We also specialize in last-minute relocations and moves. With such an experienced team, we can move your belongings up to the last minute.
No matter where you're moving, whether it's local or long distance, our professional movers are ready to help you! Need assistance with an eviction, or perhaps a commercial move? Alpha Moving & Storage is here. Let us help you make this move a seamless transition. We offer free New Jersey moving quotes, so get started today!
Local New Jersey Moving Company Reviews

We used Alpha in April 2012 for our move. We moved 2000 sq ft of furniture to our new home. Honestly, these guys were the hardest working people I have ever met in my life. They were fast, and best yet, only thing that was damaged was a Halloween pumpkin.
I will def use them again. They were highly recommended by Coldwell Banker.

- Susan X.

I used Alpha last week for a move in North Jersey. The move went great. I have nothing bad to say. In fact, this was by a mile, the best move I ever had. They were timely, nice and professional throughout the process.

AND – they gave me a FREE VACATION PACKAGE just for using their service (amazing concept – made me go with them in the first place) — So I am going to VEGAS BABY…. For FREE… Great Move at a moderate cost plus free vacation – can't beat that!

- Thomas T.

Alpha handled my move from Brooklyn to NJ and did a wonderful job. They arrived on time (actually, a few minutes early) in Brooklyn and efficiently loaded the truck. They arrived in NJ when expected and quickly moved in all furniture. They were very careful and reassembled everything very well. I highly recommend them to anyone looking for efficient, competent and courteous movers.

- Barbara G.

I used Alpha Moving for my move at the beginning of November 2011 based on a recommendation of a neighbor. They were great from beginning to end – scheduling the move and getting questions answered, the on-site estimate, and the crew who did the heavy lifting on moving day. The final cost came in under the estimate. The crew was friendly but efficient. Zero damage. I have absolutely nothing negative to say about the experience. Would use them again in a heartbeat and recommend them to friends and family.

- Marylou R.

The movers were absolutely great, very professional, polite and careful with our move from NJ to Delaware. They were great packing my 56 inch TV. They were earlier than expected and extremely caring and helpful with my 84 year old mother. I will highly recommend to others. Thanks for the great service!

Carmen and Joe Stine
Teaneck NJ

- Carmen S.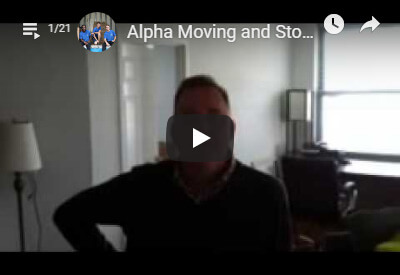 Contact us: (844) 584-6166