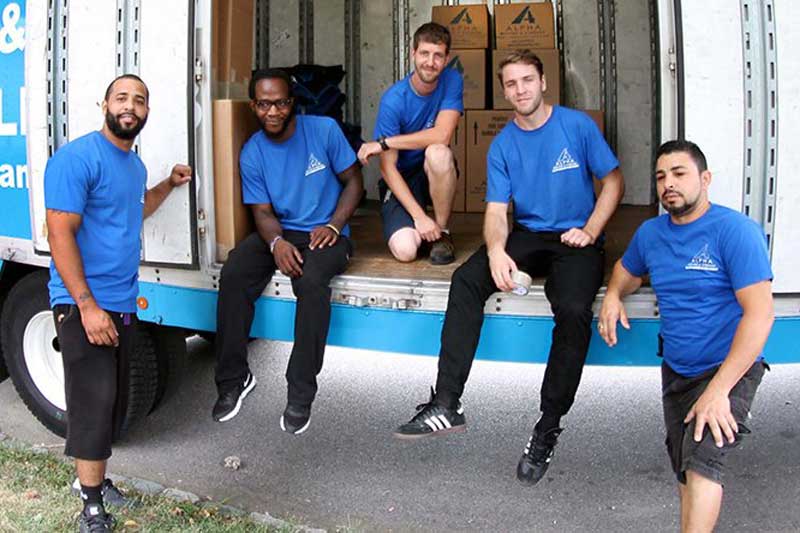 About Alpha Moving & Storage, Jersey City, NJ
The Local New Jersey Moving Company: Alpha Moving & Storage
Alpha Moving & Storage is the most premier, well-respected, and privately owned New Jersey moving companies in the industry. We have been conducting moves in the New Jersey area since 1993. We take great pride in the company we have built over the past 20+ years through hard work and dedication. At Alpha Moving & Storage, we focus on integrity, professionalism and accountability for everything we do, and we currently have an A+ rating with the Better Business Bureau.
We are fully insured and fully licensed to do local moves in New Jersey and New York, and long-distance moves anywhere in the country and overseas. Alpha Moving & Storage knows that our customers have come to expect nothing but the best from our New Jersey moving company, and through our many years in the business, we are always up to the task.
Alpha Moving & Storage Services Offered:
Local Moves in New Jersey
Long Distance Moves – competitive prices with top-notch moving quality
International Moves – all of our services are offered across the globe through a network of reliable worldwide agents and carriers
Full Service Moving – we will pack all of your belongings, load them on to our new model trucks, unload and unpack at your new residence
Partial Service Moving – you do the packing, we load your belongings, deliver and unload at your new residence
Storage Services – we will pick up your belongings and store them in our state-of-the-art secure warehouse facilities in New Jersey and New York for any duration of time to suit your needs
Commercial/Corporate Relocation – we provide a full range of office moving, employee relocation, trucking, transportation and related logistics services
For a free, no obligation in-house quotation, give us a call, contact us, or fill out a form.
A Message from the President
Dear Client,
It is widely known that most people generally have a negative feeling about moving companies and moving in general. Let's face it – no one really WANTS to move – we just have to get our belongings from point 'A' to point 'B' – preferably in one piece. In recent years, movers have been the target of continuing negative publicity. Although some instances have been justified, this has cast a shadow of doubt and mistrust over the honest, reliable, and customer-oriented companies like Alpha Moving and Storage.
At Alpha Moving & Storage, our overall objective is to earn customer trust. Our amazing reputation, impeccable record, and demonstrated integrity separates us from our competition and ensures that your upcoming relocation will be as pleasant as a move can possibly be.
Alpha Moving & Storage is insured and licensed to perform both local and long-distance moves. We are members of the New Jersey Movers and Warehousemen Association, (NJWMA), the American Moving & Storage Association (AMSA), and we're accredited by the NJ Better Business Bureau. In addition, Alpha Moving & Storage is an award-winning organization. You can learn more about our various awards by spending some time on our site.
The people at Alpha Moving & Storage have over 20 years worth of experience in the moving and storage industry and are well aware of our customers' relocation-related needs, wants, and concerns. We understand that moving can be stressful at times and, as a result, we will stop at nothing less than total customer satisfaction. Our movers are all highly-trained, well-educated professionals, who provide our customers with their undivided attention and cooperation at all times. From your initial call to us and throughout the entire relocation process and beyond, we are totally committed to your needs and satisfaction; every sensible wish is our command.
Our price structure is one of the most difficult challenges faced by our finance department. We want our price to be as competitive and appealing as possible without compromising quality or attention to detail. Because we would like to be your movers for many years to come, we pledge to keep our prices highly competitive, giving our clients an additional reason to keep coming back and referring our services. Our fees are designed to cover our direct and general overhead costs plus a modest profit margin. We sincerely believe that over-charging our clients should not make the success of the company. Instead, we grow our business by working hard, investing in the right personnel and equipment, and knowing that it is cost-effective to deliver the kind of service that will keep our clients coming back time after time.
Sincerely,
Max Hansen
President
Alpha Moving & Storage