A quick internet search for New Jersey Local Movers will yield dozens and dozens of results. Virtually all the options for movers that you will see on the results will promise you great rates and a great service. But unlike the flashy and colorful slogans and promises, a lot of the companies will not be local to your area; many of them will not even be actual movers.
So how can you tell the difference between real New Jersey local movers and companies that are only pretending to be ones? This post will help you to tell the difference by following a few very simple steps.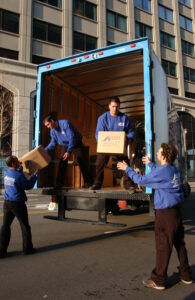 Making Sure you are dealing with an Actual Moving Company
We've said it before and we'll say it again, one cannot stress the importance of checking license numbers enough. Sometimes, it is the only way for you as a customer to tell the difference between a broker, an index service and an actual mover. So be sure that your first step is to request license numbers and check them out to make to sure that you are dealing with a genuine service provider which has the equipment, manpower and experience to handle your move.
Making sure you are dealing with New Jersey Local Movers
When it comes to making sure that you are dealing with New Jersey local movers, it is not enough just to request the physical address. Some companies will provide bogus addresses, a P.O box or the address of a self storage facility just to make it seem as if they are local.
Your best bet it to consider only companies whose headquarters is in your immediate vicinity. This way, you will be able to pay them a visit and see for yourself that you are dealing with an actual and genuine company.
More Posts You May Find Interesting