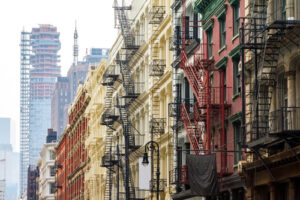 Alpha Moving & Storage offers affordable moving services in Queens Village in Queens. Consistently rated one of the top moving companies in New Jersey, the Alpha Moving team provides reliable relocation services. From long distance moving to local moving, residential to corporate, and partial packing to full packing, Alpha's flexible and customizable service allows us to tailor the perfect move for you. We know that the entire moving process is stressful. We know you're busy making sure the mail gets transferred, and the keys work, and the kids are enrolled in school. That's why our goal is to make sure moving day is stress free. From your initial estimate, through the loading process, until delivery our team of relocation professionals are prepared to show up on time, answer questions, and provide solutions.
Great moving companies aren't always easy to come by, and Alpha Moving & Storage understands that and are here to serve Queens Village. We are a reputable moving company with an A+ rating from the Better Business Bureau and 20+ years in the industry. Let our polite and professional movers do the heavy lifting so you can get settled into your new home on time. Our movers are happy to answer any questions you may have, be it the closest grocery store, the nearest bus route,or the best coffee shops. Our goal is to get you into your new home headache and backache free.
Alpha Moving & Storage is one of the most reputable moving companies in Queens Park, with an A+ rating on BBB. We are fully licensed, bonded, and insured to provide moving services locally in New York or New Jersey and across the country and globe. We are available 24 hours a day, 7 days a week, to help you prepare for your move. We can even perform a move with little notice. If you are in a pinch, contact us about last minute relocation services! Every member of the Alpha Moving & Storage team goes through extensive training so we can ensure each move is performed with care. Our team members are prepared to answer any questions that pop up during your move, so you have one less thing to worry about. Alpha has provided local moving services for countless satisfied customers. Check out our testimonials to see just how seriously we take each move. Ready to plan your move to or from Queens Park? Fill out our free quote form above or contact us for more information.