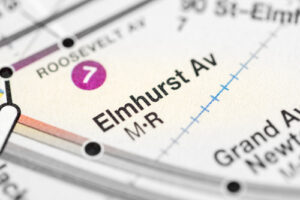 Here at Alpha Moving & Storage, we have lots of experience in long distance moves from Elmhurst, Queens, New York. Let's face it- nobody likes to move. It's just a part of life. We grow out of our homes, we find new jobs, we get out of the military and we've got to pick up all our belongings and go. It's tedious, it's time consuming, it's stressful, and it's Alpha Moving's favorite thing to do! We offer fully customizable packages to meet any types of need you may have. Partial or full packing, packing supplies for sale to do for yourself, cross country moves, local moves, international moves. We know the best ways to pack and protect your home goods to ensure a seamless move with no damage. Alpha Moving & Storage is fully licensed and insured, so you're always covered! Alpha offers many services from residential moves to commercial moves, from packing and moving to storage. Alpha Moving & Storage is here to ensure your move is as simple and stress free as possible.
Our polite and professional movers are proud to serve Elmhurst Queens. We are quick and efficient, but also respectful of your time and items. We are fully licensed, bonded, and insured in the off chance that anything could go wrong. We also offer professional packing services to prevent accidents from happening. Whether you're coming to Elmhurst or leaving, let our professional movers be your go-to to get you settled.
We know, when contemplating a move to Elmhurst, how important it is hire a reputable moving company. Alpha Moving is an award winning, A+ BBB accredited moving company. We care about customer service and making sure your move is stress free. That's why our team is available 24 hours a day, 7 days a week. We are fully licensed and insured to move within New York, New Jersey, across the United States, and abroad. When you hire Alpha Moving as your relocation company, you get a team of well-trained, knowledgeable movers. We pride ourselves on punctuality, professionalism, and trustworthiness. Our team takes extra care to make sure your belongings arrive undamaged. We know that moving day is a big deal and that you've got enough on your mind. Let us handle your move to or from Elmhurst, Queens. Get a free quote today, by filling out the form above, or view our testimonials to learn more about our past successes.