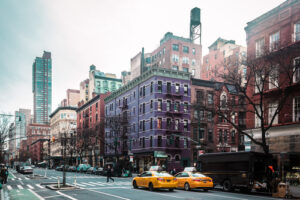 Alpha Moving and Storage is available in Upper West Side, New York, for your local moves, long distance moves, storage, and more. We are proud to be a fully licensed and insured company with over 20 years of experience. We are happy to provide you with a free, no obligation quote at your request, and have no hidden fees or costs associated with our company. Many other moving companies will quote their customers at a low-ball price, and not include hidden labor charges, mileage charges, specialty items, same-drivers, experienced movers, and the list goes on. That's not the case at Alpha Moving & Storage. We provide all of our costs and charges up front, so you can plan accordingly for your move into your new home. Moving can be expensive and stressful, and Alpha Moving is glad to take off some of that strain for you with experience and affordable prices.
As you gear up for your move to our from the Upper West Side, our team here at Alpha Moving & Storage is happy to help you relocate your possessions. The architecture here is known for its low-rise architecture and rowhouses. We can help you get settled in and after you're set for your move, ask our great movers for their recommendations for around the city. We're local to the area, and happy to help!
Alpha Moving & Storage is a reputable and recommended by the great people of the Upper West Side. We are licensed and insured and offer packing services to ensure the protection of your goods. We pride ourselves on fast and efficient moving services. Our fleet of trucks are equipped with state of the art equipment and GPS to ensure the correct location for drop off. Our movers are always on time, and available to be called up at the last moment. Call us or fill out our form above for a free, no-obligation quote for our affordable prices with no hidden fees or charges. Our movers are incredibly transparent throughout the entire process and happy to explain the entire process start to finish. Alpha Moving & Storage is here to meet your personalized moving needs, so contact us today!