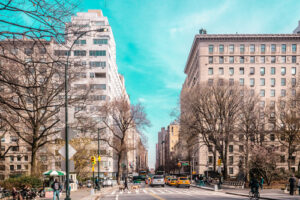 Alpha Moving & Storage is proud to serve the patrons of the Upper East Side with the many services we provide. We offer packing services, moving services, relocation, eviction, international, commercial, and residential services. Alpha moving knows the struggle of having items important to your home get broken in a move. Sometimes it's an item of high monetary value, and sometimes it can be an item of high sentimental value. We recognize the importance of both to your family and your home. At Alpha Moving & Storage we have professional packing services with heavy padding, moving blankets, boxes, fillers and more to protect your home goods. We can pack, load, unload, and unpack your items to prevent the head (and back!) ache of the moving process. We offer partial or complete packing services alongside our professional moving because we believe your move should be stress and headache free.
Our movers are local to New York and New Jersey so they know how to navigate the Upper East Side easily and stress free. Let our polite, professional, courteous movers get your settled into your new home damage and backache free. We even know the area well enough to give you recommendations on the best eat, quickest public transport, and advice for moving around the city.
Alpha Moving & Storage prides themselves on being a reputable moving company, and have many great testimonials to prove it! We have an A+ rating with the Better Business Bureau, and have a great reputation in the Upper East Side, New York area. Alpha Moving & Storage is available on short notice, and for scheduled moves. We understand moving can be stressful and we are here to help with a knowledgable and punctual team. We are a readily equipped and professional company that is here for your needs. Offering partial or complete services, call us for a free, no obligation quote today, or fill out our form above! We look forward to working with you!