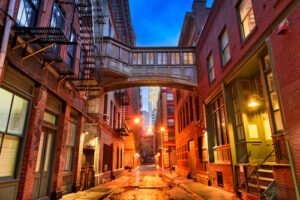 Alpha Moving & Storage proudly serves TriBeca, New York. As a premier local moving company in New York, our goal is to make your move stress free at a great price. Whether you are in need of local moving to or from the TriBeca area, or long distance moving to New York or to your new home out of state, we are here to help! Not sure if you want to do the packing or get help from start to finish? At Alpha Moving and Storage we offer partial and full packing services. Plus, we can take care of your storage needs. Our services are customizable, as are our rates and estimates, so that we can suit your needs. That means whether you are preparing for a residential or commercial move, near or far, we can help! When you choose Alpha Moving as your relocation service you will get a reliable, careful, and timely team to assist with your move.
Alpha Moving is equipped and shaped up to help you move! TriBeca is known as the triangle, or trapezoidal neighborhood of New York City. We're prepared with professionalism to help assist you. After we've got you settled in, become immersed in the culture the TriBeCa neighborhood provides and get involved in the Tribeca Film Festival!
Alpha Moving & Storage is a quick and efficient moving company available to you in TriBeca. We are completely transparent throughout your entire move. We will explain the process thoroughly, start to finish and ensure you understand every step of the move. From start to finish, we treat your valuable items as if they are our own. We pride ourselves on being available, on-time, a always a quick and efficient moving company. We understand that moving can be stressful and we aim to ease your mind. Let us do the heavy lifting in your move with partial and complete services to fit your needs. Contact us at Alpha Moving & Storage for free, no-obligation quote with no hidden fees or charges. Let the polite, professional movers at Alpha Moving & Storage get you into your new home with no stress, no headache, and no backache! Contact us today!