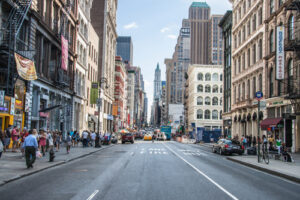 Here at Alpha Moving & Storage, we have lots of experience in long distance moves from SoHo, New York. Let's face it- nobody likes to move. It's just a part of life. We grow out of our homes, we find new jobs, we get out of the military and we've got to pick up all our belongings and go. It's tedious, it's time consuming, it's stressful, and it's Alpha Moving's favorite thing to do! We offer fully customizable packages to meet any types of need you may have. Partial or full packing, packing supplies for sale to do for yourself, cross country moves, local moves, international moves. We know the best ways to pack and protect your home goods to ensure a seamless move with no damage. Alpha Moving & Storage is fully licensed and insured, so you're always covered! Alpha offers many services from residential moves to commercial moves, from packing and moving to storage. Alpha Moving & Storage is here to ensure your move is as simple and stress free as possible.
Feeling stressed about your move to or from SoHo? Don't! Alpha Moving has movers eager and prepared to help you with your new adventure! Neighborhoods nearby are known for their artists' and galleries, but SoHo has recently become more popular for its variety of shops and chain store outlets. Get your boutique on and explore what SoHo has to offer!
Alpha Moving & Storage is one of the most reputable moving companies in SoHo with an A+ rating on BBB. We are fully licensed, bonded, and insured to provide moving services locally in New York or New Jersey and across the country and globe. We are available 24 hours a day, 7 days a week, to help you prepare for your move. We can even perform a move with little notice. If you are in a pinch, contact us about last minute relocation services! Every member of the Alpha Moving & Storage team goes through extensive training so we can ensure each move is performed with care. Our team members are prepared to answer any questions that pop up during your move, so you have one less thing to worry about. Alpha has provided local moving services for countless satisfied customers. Check out our testimonials to see just how seriously we take each move. Ready to plan your move to or from SoHo? Fill out our free quote form above or contact us for more information.