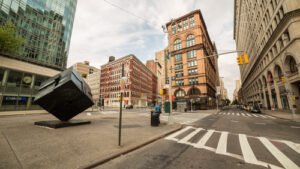 Alpha Moving & Storage specializes in local moving in the NoHo area, making sure to get your favorite furniture, home decor, and important pieces of your home moved safe and sound. We are a fully licensed and insured moving company, to ensure any possible damages to your furniture, old home or new home will be taken care of. Not only does Alpha moving & Storage offer local moving services, we offer many other services as well! We have over twenty years of experience in long distance moving, international moves, packing, storage, commercial moves, eviction moving, and more! Alpha Moving offers partial services as well as complete services, which means if you need help with just some packing, Alpha Moving is your company. Do you need a full pack and move from beginning to end? We've got your back! Here at Alpha Moving & Storage we know that moving can be stressful, and we're here to cater to your needs.
Movers from Alpha Moving are ready to help you move into the NoHo neighborhood area. With our ease and professionalism, we're sure to help get you settled in and enjoying a stress-free move, in little time! Expanded in 2008, NoHo has become the perfect neighborhood for museums and rapid gentrification.
If you are preparing your move to or from NoHo, Alpha Moving & Storage is here to help. We are fully licensed, bonded, and insured. We offer 24 emergency support and last minute relocation to accommodate your needs if something comes up unexpectedly. Our employees all undergo extensive training before going out into the field, so that they are prepared to answer your specific questions and provide tailored solutions. When you hire Alpha Moving & Storage as your relocation company you will get a reliable and trustworthy team. Our goal is to make you feel comfortable every step of the way – from your very first free estimate, through your move, until all of your precious items are safely delivered to your new home. Looking for more information? Check out our services and our testimonials. If you are ready to get moving with Alpha, fill out our free quote form above! Other questions for us? Give us a call or fill out our contact form today.