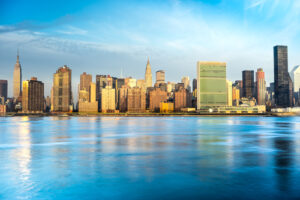 Alpha Moving & Storage uses modern, state of the art technology, for every move. Everyone has heard the nightmare stories about movers taking off with people's furniture. Let Alpha Moving & Storage prove to you that we're different. Just check out our BBB rating and our testimonials over 20+ years of service. Serving Midtown, New York , Alpha Moving & Storage has a fleet of trucks equipped with GPS units, to ensure proper drop off locations, no hidden fees, and a professional staff. We are completely transparent every step of the way, and have services customizable to your needs. We offer full and partial packing, local and long distance moving, residential and commercial moving, storage, and more. Alpha Moving & Storage is fully licensed and insured to provide local and long distance services in New Jersey and New York. Our trusted professional movers are prepared to help your move go smoothly, and incident free!
Don't be overwhelmed by your move to or from Midtown. From Alpha Moving, we're here for you with our professional and polite service. We know that moving can be a stressful time, but since we know the area, we're happy to help you get settled in with more than just your stuff.Ask us for any of our recommendations for the best sight-seeing, local eats, and best Monday morning coffee. Our movers are here for you and happy to help.
As you're gearing up for your move to or from Midtown, New York rely on Alpha Moving & Storage for your moving service needs! We understand sometimes unknown circumstances pop up, and you need someone at the last minute. Alpha Moving & Storage has a flexible schedule and is here for you every step of the way. Our fleet of trucks is always available for you when you need us most! So call us, or contact us on our quote form for your free, no-hassle, no-obligation estimate! We offer affordable prices with no hidden fees or charges. We are fully licensed and insured for the safety of your items, from pickup to delivery. We also offer same-driver services, that way you've got a familiar face from your old home to your new home! Moving is stressful, let us help!