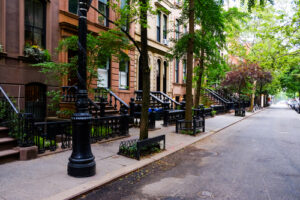 At Alpha Moving & Storage we are proud to provide moving services to Greenwich Village, New York.. We provide local moving, long distance moving, international moving, storage, and last minute relocation in the Greenwich area, so we can always make the move work for you! That means whether you are moving just down the street or across the country, we can provide professional & trustworthy moving services. Are you looking to move just those heavy pieces of furniture? Or perhaps you're interested in partial or full packing services? We offer a full range of moving services at affordable prices, so we can make your big day a little less stressful. When you choose to move with Alpha Moving & Storage, we start with a free estimate, based on your specific needs. From the very first interaction, until the last item is delivered, our team is always timely, reliable, and ready to help.
Alpha Moving movers are prepared to help you with a professional and polite move to Greenwich Village. Known as the artists' haven of New York, you can find your creative mind after we help you get settled in. Greenwich is one of the most upscale neighborhoods in New York and you can be sure to find yourself a nice meal and things to do here.
Alpha Moving & Storage is available for last minute moves, or scheduled moves in Greenwich, New York. We are always on time, professional and polite. We will remain transparent through the whole move, and explain our process every step of the way. If any questions pop up, our dedicated teams are there to help. We have an A+ rating with the Better Business Bureau that we are proud to have and maintain. We also have a large selection of amazing reviews from our satisfied customers! We pride ourselves on transporting your life and your home safely and damage free. Alpha Moving & Storage is here to do the heavy lifting, so prevent a headache, or a backache for you! We have professional packing services and supplies and offer partial or complete packing services at an affordable price. Call us today or fill out our form online for a free, no obligation quote!