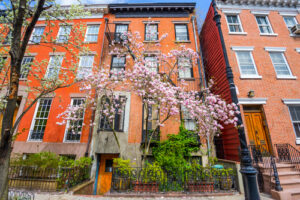 Moving, whether it be local, long distance, or international is stressful, but also exciting! Moving is a great undertaking because you're not only moving all your belongings, but starting a life in a new home. There are many logistics that go into moves, from packing tips and preferences, to being sure your items end up in the correct location. Trust Alpha Moving & Storage in Chelsea, New York to get your items moved to your new home, quickly, efficiently, affordably, and safely! With over 20 years in the moving industry, we have the experience and knowledge to make your move go smoothly. We also have the skills (and offer a service) for safe packing! Moves can be rough on furniture, dishes, breakable items, and even sturdy items so they must be adequately packed and protected. Alpha Moving offers full and partial packing services to ensure your items are properly protected for peace of mind.
At Alpha Moving & Storage, we are prepared to help you move with our local, polite and professional movers. Knowing the area, we're excited you've chose to live here and can't wait for you to get acquainted. We're glad to give you suggestions for eats and transport in Chelsea, we're also happy to explain every step of the moving process to ensure you are comfortable and satisfied.
When you're getting ready for your move to or from Chelsea, we understand that things may unexpectedly come up. Maybe your closing date on your new home got delayed or maybe you just found out you have to move out – immediately! We get it. That's why our customer service team is available 24-7 to help you adjust and plan accordingly when things happen. Not to mention, we specialize in last minute relocation. Our job is to provide timely, efficient, reliable movers to take on the stress of moving so you can worry about other things. But when you move with Alpha you don't just get a moving crew – you get a fully licensed and insured team of knowledgeable professionals ready to answer your moving questions. Think you can stump us? Think again. From the estimate, until the last item is delivered to your new home, we will go above and beyond your expectations. Fill out our quote form to get a free, no-obligation estimate for your move to or from Chelsea.