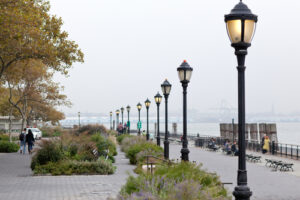 Alpha Moving and Storage is available in Battery Park City, for your local moves, long distance moves, storage, and more. We are proud to be a fully licensed and insured company with over 20 years of experience. We are happy to provide you with a free, no obligation quote at your request, and have no hidden fees or costs associated with our company. Many other moving companies will quote their customers at a low-ball price, and not include hidden labor charges, mileage charges, specialty items, same-drivers, experienced movers, and the list goes on. That's not the case at Alpha Moving & Storage. We provide all of our costs and charges up front, so you can plan accordingly for your move into your new home. Moving can be expensive and stressful, and Alpha Moving is glad to take off some of that strain for you with experience and affordable prices.
Here at Alpha Moving, we are ready to help you get settled and situated into Battery Park. Once we've got you settled, feel free to take your dog, or just yourself, and enjoy all the parks that Battery Hill has to offer. Almost ⅓ of the area is parkland! Historically, Battery Park City had some troubles shortly after 9/11, but we know you're sure to love the scenery now!
As you're gearing up for your move to or from Battery Park-New York rely on Alpha Moving & Storage for your moving service needs! We understand sometimes unknown circumstances pop up, and you need someone at the last minute. Alpha Moving & Storage has a flexible schedule and is here for you every step of the way. Our fleet of trucks is always available for you when you need us most! So call us, or contact us on our quote form for your free, no-hassle, no-obligation estimate! We offer affordable prices with no hidden fees or charges. We are fully licensed and insured for the safety of your items, from pickup to delivery. We also offer same-driver services, that way you've got a familiar face from your old home to your new home! Moving is stressful, let us help!