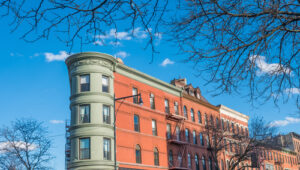 Alpha Moving & Storage uses modern, state of the art technology, for every move. Everyone has heard the nightmare stories about movers taking off with people's furniture. Let Alpha Moving & Storage prove to you that we're different. Just check out our BBB rating and our testimonials over 20+ years of service. Serving Flatbush-Brooklyn, Alpha Moving & Storage has a fleet of trucks equipped with GPS units, to ensure proper drop off locations, no hidden fees, and a professional staff. We are completely transparent every step of the way, and have services customizable to your needs. We offer full and partial packing, local and long distance moving, residential and commercial moving, storage, and more. Alpha Moving & Storage is fully licensed and insured to provide local and long distance services in New Jersey and New York. Our trusted professional movers are prepared to help your move go smoothly, and incident free!
We'd love to help you with our professional and polite service, move in to Flatbush-Brooklyn, which used to be a town all on its own. Prospect Park and Brooklyn College are nearby sights you must see. If you're not one to be completely immersed in the busy city life, Flatbush's location and distance is perfect for you.
When you're getting ready for your move to or from Flatbush, we understand that things may unexpectedly come up. Maybe your closing date on your new home got delayed or maybe you just found out you have to move out – immediately! We get it. That's why our customer service team is available 24-7 to help you adjust and plan accordingly when things happen. Not to mention, we specialize in last minute relocation. Our job is to provide timely, efficient, reliable movers to take on the stress of moving so you can worry about other things. But when you move with Alpha you don't just get a moving crew – you get a fully licensed and insured team of knowledgeable professionals ready to answer your moving questions. Think you can stump us? Think again. From the estimate, until the last item is delivered to your new home, we will go above and beyond your expectations. Fill out our quote form to get a free, no-obligation estimate for your move to or from Flatbush.