Hoboken, NJ Movers and Storage Service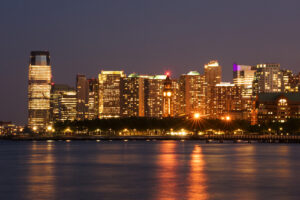 Here at Alpha Moving & Storage, we have lots of experience in long-distance moves from Hoboken, New Jersey. Let's face it- nobody likes to move. It's just a part of life. We grow out of our homes, we find new jobs, we get out of the military and we've got to pick up all our belongings and go. It's tedious, it's time-consuming, it's stressful, and it's Alpha Moving's favorite thing to do! We offer fully customizable packages to meet any types of need you may have. Partial or full packing, packing supplies for sale to do for yourself, cross-country moves, local moves, international moves. We know the best ways to pack and protect your home goods to ensure a seamless move with no damage. Alpha Moving & Storage is fully licensed and insured, so you're always covered! Alpha offers many services from residential moves to commercial moves, from packing and moving to storage. Alpha Moving & Storage is here to ensure your move is as simple and stress-free as possible.
More About Our Local Moving Services in Hoboken, NJ
Moving to or from Hoboken, the Mile Square City, can be especially stressful. Our polite and professional movers know the Hoboken area very well, which make navigating through the city with your items an easy feat for us. We aim to make your move stress (and backache) free, so you can get out and see the Elysian Fields, Carlo's Bake Shop, and the other great features of your new city. Let Alpha Moving & Storage be your go-to for moving to or from Hoboken. We are glad to explain every step of the way to be completely transparent and make the move easy to understand for our customers. We want to make sure you are satisfied with our service and get you settled!
Alpha Moving & Storage Hoboken NJ Movers
Any type of moving is at least a little bit stressful! Our goal at Alpha is to help eliminate some of your moving day stress. Our affordable prices, friendly staff, and knowledgeable movers will make you feel confident that your possessions are in good hands! We are fully licensed and insured, A+ rated on BBB and trusted by countless customers (just check out our testimonials!). Most of our moves are repeat customers or have been referred to Alpha Moving & Storage by family or friends, which we take great pride in. With 24-hour availability and a dedicated customer service team, we are here to take the stress off of you. Our sales representative, movers, drivers, and foremen have all completed thorough training, so they will be prepared to transport your items safely and answer any questions. Fill out our quote form above to get a free estimate for your move to or from Hoboken, or learn more about us and our services.