Affordable Storage & Moving Services Bayonne NJ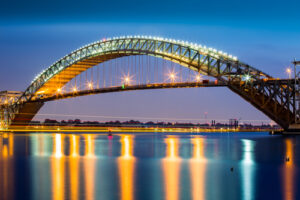 Alpha Moving & Storage offers affordable moving services in Bayonne, New Jersey. Consistently rated one of the top moving companies in New Jersey, the Alpha Moving team provides reliable relocation services. From long distance moving to local moving, residential to corporate, and partial packing to full packing, Alpha's flexible and customizable service allows us to tailor the perfect move for you. We know that the entire moving process is stressful. We know you're busy making sure the mail gets transferred, and the keys work, and the kids are enrolled in school. That's why our goal is to make sure moving day is stress-free. From your initial estimate, through the loading process, until delivery, our team of relocation professionals is prepared to show up on time, answer questions, and provide solutions.
More About Our Local Moving Services in Bayonne, NJ
Alpha Moving & Storage is based in Jersey City, New Jersey, which is the immediate neighbor to Bayonne. Which means our movers are local to the Bayonne area and know the town well! We can navigate through the streets of Bayonne easily, making your move quick, easy, and efficient. Our movers are polite and professional and are excited to settle you into your new home, with a great view of the Bayonne Bridge and a great view of Lower Manhattan! We are proud to be punctual and careful with your home goods and furniture. Let Alpha Moving & Storage make your move quick, easy, headache and backache free!
Local & Long Distance Moving Company in New Jersey
We know, when contemplating a move to Bayonne, how important it is hiring a reputable moving company. Alpha Moving is an award-winning, A+ BBB accredited moving company. We care about customer service and making sure your move is stress-free. That's why our team is available 24 hours a day, 7 days a week. We are fully licensed and insured to move to New York, New Jersey, across the United States, and abroad. When you hire Alpha Moving as your relocation company, you get a team of well-trained, knowledgeable movers. We pride ourselves on punctuality, professionalism, and trustworthiness. Our team takes extra care to make sure your belongings arrive undamaged. We know that moving day is a big deal and that you've got enough on your mind. Let us handle your move to or from Bayonne. Get a free quote today, by filling out the form above, or view our testimonials to learn more about our past successes.