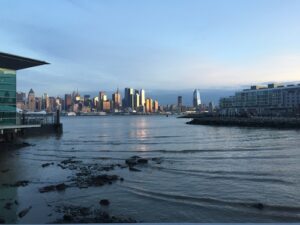 Edgewater, New Jersey Moving Services
Alpha Moving & Storage is proud to serve the patrons of Edgewater, New Jersey with the many services we provide. We offer packing services, moving services, eviction, international, commercial, and residential services.
Professional Packing Available
Alpha Moving knows the struggle of having items important to your home get broken in a move. Sometimes it's an item of high monetary value, and sometimes it can be an item of high sentimental value. We recognize the importance of both to your family and your home. At Alpha Moving & Storage we have professional packing services with heavy padding, moving blankets, boxes, fillers and more to protect your home goods.
We can pack, load, unload, and unpack your items to prevent the head (and back!) ache of the moving process. We offer partial or complete packing services alongside our professional moving because we believe your move should be stress and headache free.
Local Movers with Local Knowledge
The movers at Alpha Moving & Storage are local to New Jersey and proud to serve Edgewater. Our movers are polite and professional and here to ease your mind, and your back! Let us do the heavy lifting and get you settled in your new home, that way you can get out to visit Veteran's Field or hop on the Ferry and go visit the city. Our movers are glad to answer any questions you may have, and explain every step of the process, to ensure your satisfaction.
Movers Servicing Bergen County
Alpha Moving & Storage is proud to serve the cities in Bergen County, including Edgewater. We are proud to be completely transparent every step of the way, and are glad to explain every step of the process. We offer partial and complete packing services, and our movers are professional and polite. We're here for the heavy lifting, so you don't have to! Prevent the headache and the backache of moving with Alpha Moving & Storage.
We have an A+ rating with the Better Business Bureau that we are proud to maintain, and pages of great testimonials from our past customers. We are fully licensed, bonded, and insured to provide moving services locally in New York or New Jersey and across the country and globe. Ready to plan your move to or from Edgewater? Fill out our free quote form or contact us for more information.