Moving & Storage Specialists in New Jersey
WHY CHOOSE ALPHA MOVING FOR YOUR NEW JERSEY MOVING COMPANY?
Alpha Moving & Storage is an award winning, fully licensed and insured relocation company licensed to provide moving and storage services within New York, New Jersey and to anywhere in the country or around the globe.
Our experienced relocation team is proud of our proven success of attending to our client's every need, want, or concern. Whether you are moving a few boxes, an entire household, or a busy office, with our uniquely professional moving services, you will receive an equally prompt, courteous, and reliable service.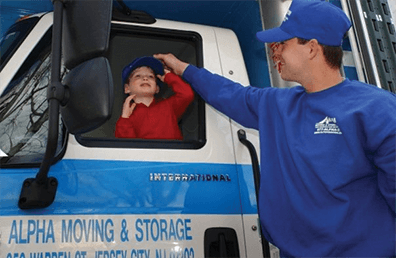 In addition to our high quality customer service, we hold an impeccable record with the industry's governing agencies.
The moving company New Jersey services we provide operate 24 hours a day, 7 days a week. We also have the ability to move your belongings with little notification – last minute relocation is our specialty.
Our network of agents and offices throughout the continental United States allows us to provide an enormous array of moving services to a wide client base. Choose the responsible and dedicated moving experts of Alpha Moving & Storage to make your moving experience a seamless one.
Local New Jersey Moving Company Reviews

We have used Alpha Movers for moves twice in the last 2.5 years and had great experience both the times. They sent someone to give an estimate and the estimate was accurate. The reservation process was smooth and the acceptance of credit card was an added plus.

The moves themselves were pretty good. Movers were courteous, efficient and very professional. Based on our experiences, I have recommended Alpha Movers to a few friends and all of them were happy with Alpha Movers. I would be happy to recommend them again.

- Kartikey M.

This was the best moving experience I have ever had! This was a move from one state to another, and things could not have gone more smoothly. The movers showed up exactly when I was told they would be there. They wrapped everything very carefully, but were extremely efficient in how quickly they loaded the truck.
The truck arrived at our destination even earlier than I expected. Once again the men moved things very quickly, but also very carefully. They assembled all furniture that needed it, and cleaned up beautifully when they were finished.
The rate was quite reasonable, and everyone was completely professional. I will recommend Alpha to everyone I know who has to hire movers.

- Wendy G.

I had to move again, and just went straight to Alpha. From my experience they are always on time for the move. Very friendly. They are extremely thorough and fast. My move always seems to be done faster then expected. I always get uneasy with moves but from the two experiences I have had I'm left very relieved. The cost is always fair.

- Chris G.

I have had a fantastic experience for two moves with Alpha (both within Brooklyn – 2010 and 2012- both up and down stairs!). They were quick, professional, and careful – even though I was a still half-packing thing in the end of my second move, they were super nice and helpful. It was actually the same team that moved me both times, and they remembered me! I would go with them for any future move as well, and I highly recommend them!

- Shelly W.

This is the 2nd time that I've used Alpha for moving purposes in the JC/Hoboken area, and both were great experiences.

In an area with narrow streets, very little parking, and narrow/small hallways & apartments — these guys were pro's, going non-stop for 5 hours.

I only booked a week ahead of time, and they gave me a great team of guys and an accurate estimate.

I'd highly recommend Alpha — they've shown up on time and ready to go…. something that other moving companies might not necessarily do.

- M R.
Contact us: (844) 584-6166