Moving & Storage Specialists in New Jersey
WHY CHOOSE ALPHA MOVING FOR YOUR NEW JERSEY MOVING COMPANY?
Alpha Moving & Storage is an award winning, fully licensed and insured relocation company licensed to provide moving and storage services within New York, New Jersey and to anywhere in the country or around the globe.
Our experienced relocation team is proud of our proven success of attending to our client's every need, want, or concern. Whether you are moving a few boxes, an entire household, or a busy office, with our uniquely professional moving services, you will receive an equally prompt, courteous, and reliable service.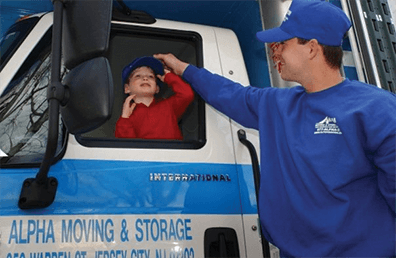 In addition to our high quality customer service, we hold an impeccable record with the industry's governing agencies.
The moving company New Jersey services we provide operate 24 hours a day, 7 days a week. We also have the ability to move your belongings with little notification – last minute relocation is our specialty.
Our network of agents and offices throughout the continental United States allows us to provide an enormous array of moving services to a wide client base. Choose the responsible and dedicated moving experts of Alpha Moving & Storage to make your moving experience a seamless one.
Local New Jersey Moving Company Reviews

Willy and his guys did a great job moving me.
I was displaced due to flooding after Hurricane Irene. I was able to schedule a time with Alpha only days later and they got me into the truck and into my new apartment in just 3 hours.
Alpha was able to make what could have been a horrible experience very easy and at a great price.

Thanks Alpha!

- Bart D.

Alpha Moving & Storage were hands down the best two moving experiences I ever had. The movers really put a lot of care into moving the furniture from my condo to storage and back to my new apt. The office is also run in a very professional manner. I'd recommend them to anyone of my friends or family. Have fun with your Alpha move!! I did!

Craig S.

- Craig S.

Just used Alpha for the first time for an in-state move at the beginning of June. They came highly recommended from a friend who had used them twice. I didn't shop around to get the best rates, so I have no idea how they would rank. I had a number in my head as to what I was willing to pay – and Alpha came in right around that number.

The crews arrived on time and were able to park the truck in a small space (cars hadn't moved despite no parking signs being up). I had extra tape and supplies – but not enough to take care of everything, but the foreman told me he would try to keep their use of their own supplies as minimal as possible to not increase the cost by too much.

The crew finished ahead of schedule and nothing was damaged. I hope to not have to move again, but if I do – I know I can count on Alpha.

- Erin P.

I am glad I used this company for my recent move!!! They were on time, polite; everyone spoke English (not like the company I used years ago). Most important for me was that foreman explained everything to me before they started to work and they charged me from the moment they actually started to work and not from the moment they arrived to my place. It was very quick move, all guys worked so efficient that my wife was in disbelief. We stucked in traffic on the way to my new place but I can't blame movers for that.
I would definitely use this company again and will recommend them to all of my friends.

- Vikram P.

Alpha is a great company. I have now used them three times and was happy each and every time. They are always prompt and prepared. The actual amount is usually higher than the estimate but you can help to prevent this by participating in the move and making sure everything is taped up ready to go in the truck prior to them arriving. I would absolutely use them again.

- John K.
Contact us: (844) 584-6166