Moving & Storage Specialists in New Jersey
WHY CHOOSE ALPHA MOVING FOR YOUR NEW JERSEY MOVING COMPANY?
Alpha Moving & Storage is an award winning, fully licensed and insured relocation company licensed to provide moving and storage services within New York, New Jersey and to anywhere in the country or around the globe.
Our experienced relocation team is proud of our proven success of attending to our client's every need, want, or concern. Whether you are moving a few boxes, an entire household, or a busy office, with our uniquely professional moving services, you will receive an equally prompt, courteous, and reliable service.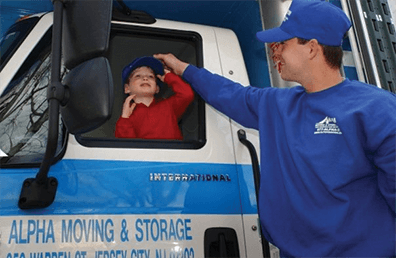 In addition to our high quality customer service, we hold an impeccable record with the industry's governing agencies.
The moving company New Jersey services we provide operate 24 hours a day, 7 days a week. We also have the ability to move your belongings with little notification – last minute relocation is our specialty.
Our network of agents and offices throughout the continental United States allows us to provide an enormous array of moving services to a wide client base. Choose the responsible and dedicated moving experts of Alpha Moving & Storage to make your moving experience a seamless one.
Local New Jersey Moving Company Reviews

I had to move again, and just went straight to Alpha. From my experience they are always on time for the move. Very friendly. They are extremely thorough and fast. My move always seems to be done faster then expected. I always get uneasy with moves but from the two experiences I have had I'm left very relieved. The cost is always fair.

- Chris G.

Hello,
Alpha crew: I wanted to thank you for the wonderful service you have provided throughout my many moves! The consistent efficiency and professionalism of your team has made every move go smoothly. Thank you once again for your services and I highly recommend your company.

On a side note- I am pretty shocked to read some of the comments below… I had sched. about 5 moves within a month with Alpha, and had ZERO issues. They did the move for my 8000 sq ft home in Weehawken to Arizona…. I had additional furniture that had to be delivered from my Weehawken home to houses in Freehold, North Bergen and few other places… its a blur at this point… but each move was always on sched-organized-professional- As I stated before, if I have any more moves, god willing that was the last- BUT if I ever do, I will use them again and continue to recommend. Heather was SO accommodating with times, dates etc…she was patient with my crazy sched. and actually made my move… quite easy! Thank you again Alpha!

Kristy B

- Kristy B.

Willy and his guys did a great job moving me.
I was displaced due to flooding after Hurricane Irene. I was able to schedule a time with Alpha only days later and they got me into the truck and into my new apartment in just 3 hours.
Alpha was able to make what could have been a horrible experience very easy and at a great price.

Thanks Alpha!

- Bart D.

I was a bit skeptical after reading some of the reviews but decided to give them a chance anyway. I'm glad I did!! The service from everyone, including the crew to Avi the general manager was impeccable. The crew arrived right on time and started working within 5-10 minutes as soon as the paperwork was finished. We ran into a bit of a snag during the unloading, but the crew made sure to adjust to my specific needs even before the general manager was involved.

We have a 2 bedroom apartment and moved into 3 level home. It took the crew less than 5 hours (estimated time was 5.5 hours) to load and unload. Nothing was broken at all. They took a lot of care to wrap ALL the furniture in blankets.

I would definitely recommend Alpha Moving and use again!!

- Amar B.

I have had a fantastic experience for two moves with Alpha (both within Brooklyn – 2010 and 2012- both up and down stairs!). They were quick, professional, and careful – even though I was a still half-packing thing in the end of my second move, they were super nice and helpful. It was actually the same team that moved me both times, and they remembered me! I would go with them for any future move as well, and I highly recommend them!

- Shelly W.
Contact us: (844) 584-6166