Moving & Storage Specialists in New Jersey
WHY CHOOSE ALPHA MOVING FOR YOUR NEW JERSEY MOVING COMPANY?
Alpha Moving & Storage is an award winning, fully licensed and insured relocation company licensed to provide moving and storage services within New York, New Jersey and to anywhere in the country or around the globe.
Our experienced relocation team is proud of our proven success of attending to our client's every need, want, or concern. Whether you are moving a few boxes, an entire household, or a busy office, with our uniquely professional moving services, you will receive an equally prompt, courteous, and reliable service.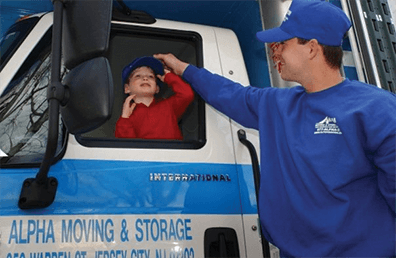 In addition to our high quality customer service, we hold an impeccable record with the industry's governing agencies.
The moving company New Jersey services we provide operate 24 hours a day, 7 days a week. We also have the ability to move your belongings with little notification – last minute relocation is our specialty.
Our network of agents and offices throughout the continental United States allows us to provide an enormous array of moving services to a wide client base. Choose the responsible and dedicated moving experts of Alpha Moving & Storage to make your moving experience a seamless one.
Local New Jersey Moving Company Reviews

Wow! Alpha Moving & Storage made my moving experience so much easier. The movers came right on the dot and moved all of my belongings carefully but quickly. I was amazed when they arrived to my house before I did! The movers were polite and considerate. I strongly recommend using this company because it was the best value I could find anywhere and the best quality too.

- Beth B.

Alpha handled my move from Brooklyn to NJ and did a wonderful job. They arrived on time (actually, a few minutes early) in Brooklyn and efficiently loaded the truck. They arrived in NJ when expected and quickly moved in all furniture. They were very careful and reassembled everything very well. I highly recommend them to anyone looking for efficient, competent and courteous movers.

- Barbara G.

This was the best moving experience I have ever had! This was a move from one state to another, and things could not have gone more smoothly. The movers showed up exactly when I was told they would be there. They wrapped everything very carefully, but were extremely efficient in how quickly they loaded the truck.
The truck arrived at our destination even earlier than I expected. Once again the men moved things very quickly, but also very carefully. They assembled all furniture that needed it, and cleaned up beautifully when they were finished.
The rate was quite reasonable, and everyone was completely professional. I will recommend Alpha to everyone I know who has to hire movers.

- Wendy G.

I used Alpha recently, moving between apartments in Jersey City.

Alpha was the only moving company who was willing to come out and provided a quotation. The assessor who came out (Jono?) was very friendly and listed out all the costs involved, including travel time and minimum hours charged (3.5hrs). They were very upfront with the costs involved, including additional items such as tapes, boxes etc. They also offered to cap the max cost to a value (an hour more than the quoted time). All the other movers I contacted offer an estimate based on the list of items I provided, with no cap.

The 3 movers came on time and did a good job moving all the items. They were efficient, dis-assembled the large furniture items (Bed, Dresser etc), and assembled at the new apartment. Everything was done carefully, with no damage to any items. They were polite, and completed the job exactly as per the quoted time.

I had a very good experience with Alpha, and would recommend them to others.

- Newport U.

Hello,
Alpha crew: I wanted to thank you for the wonderful service you have provided throughout my many moves! The consistent efficiency and professionalism of your team has made every move go smoothly. Thank you once again for your services and I highly recommend your company.

On a side note- I am pretty shocked to read some of the comments below… I had sched. about 5 moves within a month with Alpha, and had ZERO issues. They did the move for my 8000 sq ft home in Weehawken to Arizona…. I had additional furniture that had to be delivered from my Weehawken home to houses in Freehold, North Bergen and few other places… its a blur at this point… but each move was always on sched-organized-professional- As I stated before, if I have any more moves, god willing that was the last- BUT if I ever do, I will use them again and continue to recommend. Heather was SO accommodating with times, dates etc…she was patient with my crazy sched. and actually made my move… quite easy! Thank you again Alpha!

Kristy B

- Kristy B.
Contact us: (844) 584-6166