Moving & Storage Specialists in New Jersey
WHY CHOOSE ALPHA MOVING FOR YOUR NEW JERSEY MOVING COMPANY?
Alpha Moving & Storage is an award winning, fully licensed and insured relocation company licensed to provide moving and storage services within New York, New Jersey and to anywhere in the country or around the globe.
Our experienced relocation team is proud of our proven success of attending to our client's every need, want, or concern. Whether you are moving a few boxes, an entire household, or a busy office, with our uniquely professional moving services, you will receive an equally prompt, courteous, and reliable service.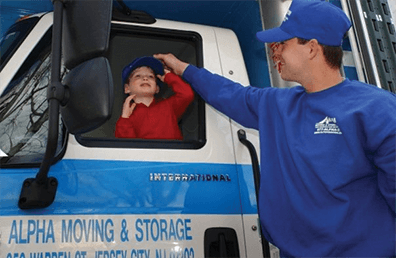 In addition to our high quality customer service, we hold an impeccable record with the industry's governing agencies.
The moving company New Jersey services we provide operate 24 hours a day, 7 days a week. We also have the ability to move your belongings with little notification – last minute relocation is our specialty.
Our network of agents and offices throughout the continental United States allows us to provide an enormous array of moving services to a wide client base. Choose the responsible and dedicated moving experts of Alpha Moving & Storage to make your moving experience a seamless one.
Local New Jersey Moving Company Reviews

Willy and his guys did a great job moving me.
I was displaced due to flooding after Hurricane Irene. I was able to schedule a time with Alpha only days later and they got me into the truck and into my new apartment in just 3 hours.
Alpha was able to make what could have been a horrible experience very easy and at a great price.

Thanks Alpha!

- Bart D.

I have had a fantastic experience for two moves with Alpha (both within Brooklyn – 2010 and 2012- both up and down stairs!). They were quick, professional, and careful – even though I was a still half-packing thing in the end of my second move, they were super nice and helpful. It was actually the same team that moved me both times, and they remembered me! I would go with them for any future move as well, and I highly recommend them!

- Shelly W.

I recently used Alpha Moving & Storage for a long distance move from upstate NY to Hoboken. The service was great! I have heavy antique furniture and they were extremely careful – not a single piece of furniture was damaged or even scratched. The movers were quick, professional, extremely helpful, friendly and most of all great with my 3-year-old nephew whom I needed to babysit at the last minute.

In addition the quote provided to me over the phone was accurate, there were no hidden charges, and I even received money back because they were quick and efficient and moved me in faster than they had anticipated.

I would use them again in a heartbeat and have already recommended them to others.

- Jennifer C.

We use Alpha-moving Company and we were pleased with the delivery, assembling of our furniture. We had a quote of $456 for 4 men and they were complete within the four hours. However due to our lack of preparation, we had to pay more for our move. We actually referred Alpha Moving and they were very pleased with the service they receive. These was our first time moving and pray we would not have to move anytime soon, if we do, we will call upon Alpha Moving.

Moving is a stressful job; it is always helpful when you work with professional people!

Thank you
Alpha
The Trents

- Sharnell t.

Again Alpha out did themselves. Chubby and his crew were professional and on time even early!!!. This is the 5th move with them 2 offices, 2 homes and a music studio. I highly recommend them for the customer service. Booking the job was great with Heather, John the estimator was prompt. I even got a phone call when the job was done from one of the owners…. how often does that ever happen??? Um never these days.

Again the move from Morristown to Westwood went smoothly, we did change a few things the day of the move by my choice so it took about another hour or so but that was not due to anything they did.

Thanks Alpha for a great job.
John Ferrari

- John F.
Contact us: (844) 584-6166