Full & Partial Packing Services In New Jesery by Alpha Moving and Storage
One of the most important decisions regarding your upcoming move will be whether or not to pack everything yourself or to have the movers do professional packing.
Such decisions will influence your moving preparation schedule and canen influence your moving dates, as full packing may require an additional packing day.
Let's take a look at some of the options that are available to you.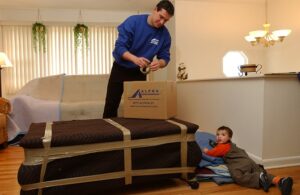 Full Packing Services
When you select the full packing service, it means that the mover will bring all the boxes and materials that you need and pack the entire content of your house.
Packing materials include not only boxes but also bubble wrap for glass parts and glass items, white paper for packing dishes and more.
Specially designed boxes are available for packing books, dishes, televisions, electronic equipment, clothes, mattresses and more.
For larger moves, a separate day of packing may be required. In this case, the movers will come a day before the actual moving date to prepare and pack the contents of your house.
Self Packing and Partial Packing
When you decide to pack yourself you will need to get the boxes and the materials yourself. You will also need to create a packing schedule, to avoid a situation in which you will be unprepared on the moving date.
You have the option of ordering packing materials from the relocation company you've selected.
Alpha Moving and Storage offers box delivery services. You can order all the materials, including boxes, bubble wrap, tapes and white paper and have them delivered by our movers to your doorstep.
You also have the option of allowing the movers do only some of the packing for you. Many people prefer to leave the breakable items and the electronic equipment for professional movers to pack.
The Alpha Movers have a packing materials supply store on the truck, available for last minute packing on the moving date.