Selecting a moving company for your local relocation is not an easy task. This is because each online request for information results in dozens of confusing results. Just about anyone can claim to be a local mover, rent a truck, and come to your house. This is why cautiousness is recommended. You need to check, research, compare and think carefully before reaching your final decision.
The Best Moving Service for your Local Move – Researching Online
Don't consider all the results you will be getting online without sorting out genuine local movers from brokers and remote companies that will simply pass on your move to another service provider. Check company websites. The company's license numbers and address should appear on its website. Check the numbers and the address provided to make sure you are dealing with a genuine service provider. After carefully conducting your research, concentrate on about four to six moving companies.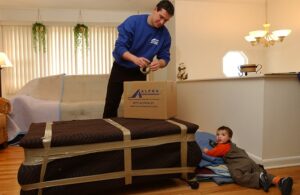 The Best Moving Service for your Local Move – Getting Your Estimates
If possible, ask your potential movers to send a representative to your house to give you an on-site estimate. Local moving is charged according to a fixed hourly rate. Ask your potential movers for that rate, as well as how many movers they will be sending for that rate. Next, ask if there are any added charges, such as costs for packing and packing materials.
The Best Moving Service for your Local Move – Selecting a Local Mover  
Once you've received about four to six estimates from reputable local moving companies, it is time to compare and make a careful decision. Compare the hourly rate that the various companies have given you. For larger moves, make sure that the moving company has assigned enough movers. For example, a four-bedroom house will require at least four or five movers.