In this new Alpha Moving and Storage Information blog article we discuss everything you need to know about long distance moving and storage. We collected tips and recommendations from our dispatch managers, foremen and sales representatives and are proud to present them here.
Trimming Down Inventory
Long distance moving and storage is volume or weight based. Taking this into consideration, you should try to trim down your inventory as much as possible. Get rid of all unnecessary furniture, old collections you no longer have any use for etc. Tidying up can save you a lot of money for your long distance move.
Contacting your Movers Early
Try to contact your long distance moving and storage company and schedule your moving date at least four to six weeks before your pick up date. Scheduling early will ensure availability and will give you enough time for packing and moving inventory decisions.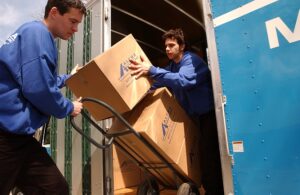 Understanding your Moving Price
Make sure you fully understand your long distance moving price. The price should be presented in easy to understand terms and include a mention of all possible fees, such as packing fees, additional elevator or stairs fees etc. If you are not sure about any of the details appearing on your estimate or about any of the price details, be sure to contact your relocation consultant and ask for clarifications.
Check and double check the reputation of all long distance moving and storage service providers you are considering.
Storage Services
If you need storage services, check with your moving company about a possible one month of free storage. If you are going into storage, we strongly recommend that you allow the moving company to perform all packing services for you. Household goods that go into storage need to be carefully and professionally packed and protected. This is why professional packing is essential and highly recommended.